Eastern Iowa DX Association
Welcome to the Eastern Iowa DX Association web site! Our club is open to any amateur radio operator who is interested in DXing and/or contesting. You are cordially invited to attend club meetings and get aquainted. We have many friendly, outgoing members with varied areas of expertise, who would be delighted to meet you and offer their help as needed. (Detailed club information is on the "About EIDXA" page.)


---
EIDXA News
(Updated July 16, 2017)
EIDXA Picnic
The annual EIDXA Picnic will be held on Saturday, September 9, 2017 (with a rain date of September 30). NRØX will host the picnic at his site near Martel. Here is an interactive Google Map showing the location. Any members planning on flying in should coordinate with NRØX!
EIDXA October 2017 Meeting
The next EIDXA meeting will be held on a Friday in October (the exact date is yet to be determined) at our new meeting location, the Hall-Perrine Cancer Center at Mercy Medical Center in Cedar Rapids. Complete details, including an aerial photo map, may be found on the "Meetings" page.
July 2017 Eastern Iowa DXer
The July 2017 edition of the Eastern Iowa DXer is now available on the "Newsletter" page. Bob, WØGXA, has as usual put together a great newsletter, loaded with good information. Be sure you don't miss it!
New EIDXA Email Reflector
The new reflector is now on line. To post to the new reflector, email your message for the group to: eastern-iowa-dx-association@googlegroups.com
You may visit the group homepage here:
https://groups.google.com/group/eastern-iowa-dx-association
The group homepage has a complete archive of all messages exchanged via the group. This new reflector allows us to forward photos or other files to the group. Nice!
3YØZ Certificate of Appreciation
EIDXA has received a certificate of appreciation from the 3YØZ Bouvet Island DXpedition in recognition of our financial support of this forthcoming operation. Current plans are to be on the air in early 2018.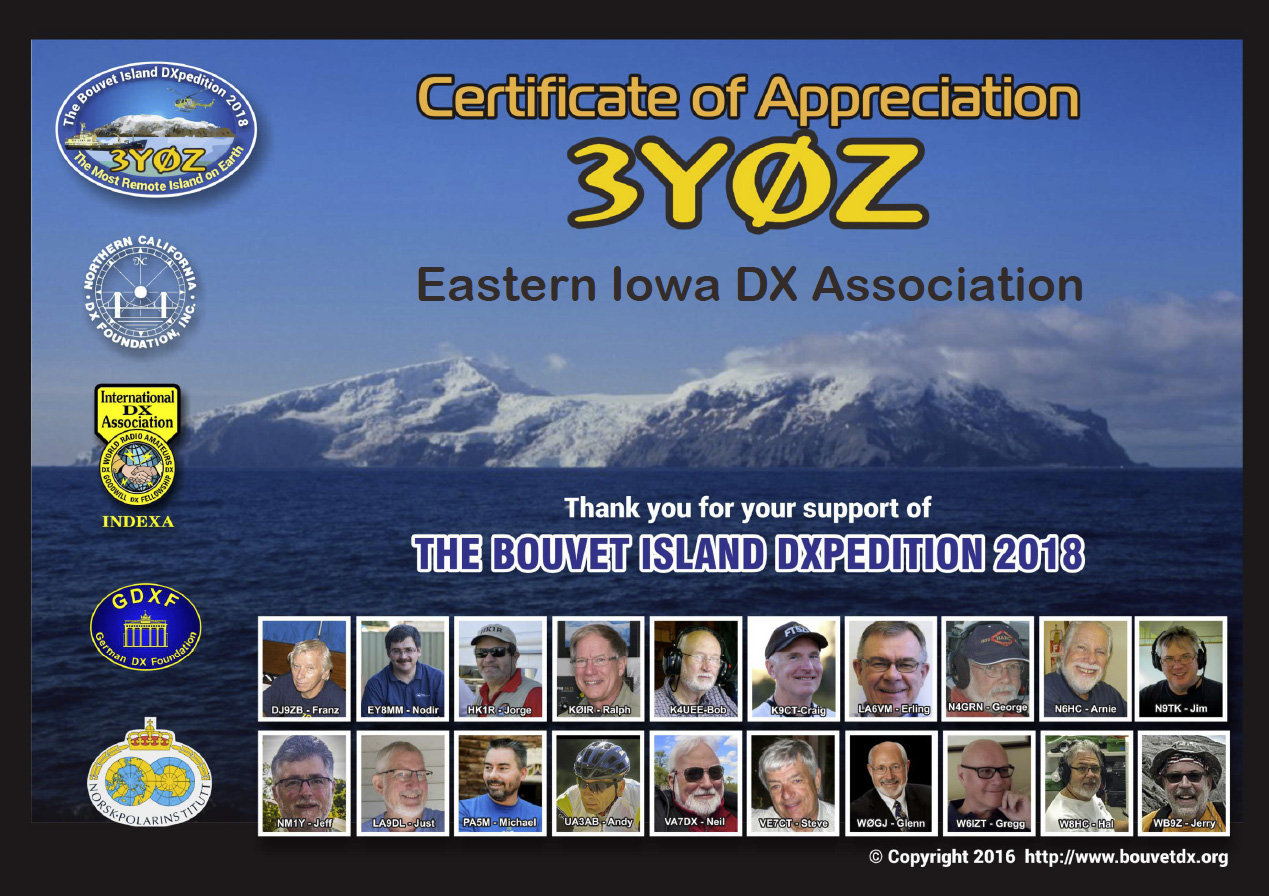 Please click on this image to see the full-size certificate. You may also wish to visit the Bouvet Island DXpedition web site. The EIDXA logo is on the "Sponsors" page.
---
DX News (Updated August 13, 2017)
DX News items, unless otherwise noted, are courtesy of:
The Ohio/Penn DX Bulletin (OPDX)
Tedd Mirgliotta, KB8NW, Editor (kb8nw@barf80.nshore.org)
For subscription info, please see http://hamnet.org/mailman/listinfo/opdx

5W, SAMOA. Roly, ZL1BQD, will once again be active as 5WØRR from Apia between July 26th and August 15th. Activity will be limited depending on his workload. Activity will be on 80-10 meters using mostly JT65 (possibly FT8) with some CW. He uses a KX3 with 10 watts. QSL via his home callsign.
-[OPDX # 1323 July 24, 2017]
5Z4, KENYA. Nick, LZ4NM, will now be active 5Z4/LZ4NM from Kenya until June 30th, 2018. Activity will be on 40-10 meters using CW, SSB and the Digital modes. He was active this past weekend's IARU HF Contest as 5Z4NM. Currently, his equipment is an Icom IC-7000, Inverted Vee (40/20m) and a DunaX vertical (20-10m). QSL direct to: Amateur Radio Society of Kenya (ARSK), Box 45681, Nairobi, 00100, Kenya.
-[OPDX # 1321 July 10, 2017]
7P, LESOTHO. Operators Quintus/ZS2KU and Vaughan/ZS2VR will be active as 7P8QM and 7P8VRR, respectively, from the Sani Stone Lodge (WW Loc. KG40PK) in the Sani Pass region between August 18-21st. Activity will be on 40/20/15 meters. QSL via their home callsigns. ZS2KU has applied for a 7P8QM LoTW account.
-[OPDX # 1324 July 31, 2017]
9N, NEPAL. Operators Eri/KM4DAY and Alex/LZ4AX are now active as 9N7ES and 9N7AE, respectively, until August 17th. Activity will be on various HF bands. QSL both callsigns via LZ3SM.
-[OPDX # 1326 August 14, 2017]
9X, RWANDA. Alan, KE4TA, will be active as 9XØTA from Kigali for a 3-year period beginning sometime in early August. This will be his first 'DXpedition'. Activity will be primarily on 20/17 meters using 600W/100W of power. He does have antennas or antenna-tuner combinations for 80-10 meters and 6m. Modes will be SSB, the Digital modes and some CW. Power may be restricted by the Rwandan authorities in accordance with their laws. Radio is a Yaesu FT-991, and antenna will be a hexbeam on a push up tower. Alan, states, "Noise levels here are extremely high. Please don't be offended if I'm not answering your call, I likely can't hear you." QSL via DIRECT to N4GNR. He will also use LoTW. For more details, pictures and updates (maybe even an operating schedule), visit his Web page at:
http://www.rwandadx.com
-[OPDX # 1324 July 31, 2017]
CO, CUBA. A large team of operators from the Pinar del Rio filial of the FRC (Federación de Radioaficionados de Cuba) will be active from Faro Roncali (ILLW CU-0002) located in the most western point of the island, during next ILLW (International Lighthouse and Lightship Week End, August 18-20th) using the callsign T41FR. The activity will be on all HF bands using CW, SSB and PSK-31. QSL only via direct including SASE to: P.O. BOX # 253, Pinar del Rio, 20100, Cuba.
-[OPDX # 1324 July 31, 2017]

CO, CUBA (LH Op). Look for a team of Cuban hams from coastal town of Gibara in Holguin Province to operate during the International Lighthouse and Lightship Week End [ILLW] (August 18-20th) as T48LHH from Punta Rasa Lighthouse, 3 km North off Gibara. Activity will be 160/80/40/20/10/2 meters using CW, SSB and the Digital modes. Operators mentioned are CO8HH, CO8YWK, CO8FS, CM8MLK, CM8AY, CL8CSV and possibly others.
-[OPDX # 1324 July 31, 2017]

CO, CUBA (Update/Reminder). Cuban operators will be active as T45FM from the Faro Puta Maya Lighthouse (ILLW CU-005, WW Loc. EL93cd) during the International Lighthouse Lightship Weekend (ILLW) between August 19-20th. Operators mentioned are CL2DPC, Reinier/CL3ATR, Dairis/CL3DAI, CL5HMB, Eddy/CM3EFM, Amed/CO2AME, Bob/CO2KL, Boris/CO3DSE, Carlos/CO5API, Alejandro/ CO5AY, Davis/CO5DOR, Onelio/CO5FR, CO5JK, Luis/CO5LB, Maykel/CO5MK, Norberto/CO5NS, CO5SD and Moses/CM2YM. They plan to have 6 stations active on all the bands using CW, SSB and the Digital modes. QSL Manager is RW6HS direct only.
-[OPDX # 1326 August 14, 2017]
D2, ANGOLA. Paulo, CT1FJZ, is once again active as D2FJZ from Luanda. The length of his stay is unknown at this time. Activity was reported on 20 meters SSB. QSL via his home callsign.-[OPDX # 1321 July 10, 2017]
-[OPDX # 1322 July 17, 2017]
DXCC MOST WANTED (ClubLog). The "DXCC Most Wanted" entities list has been updated on ClubLog as of July 31st. The top 10 entities are:
1. P5 DPRK (North Korea) 6. CEØX San Felix Islands
2. 3Y/B Bouvet Island 7. BV9P Pratas Island
3. FT5/W Crozet Island 8. KH3 Johnston Island
4. KH1 Baker Howland Islands 9. VKØM Macquarie Island
5. BS7H Scarborough Reef 10. KH7K Kure Island
The complete "DXCC Most Wanted" entities list is available at:
https://secure.clublog.org/mostwanted.php
-[OPDX # 1325 August 7, 2017]
E5, SOUTH COOK ISLANDS (Reminder). Alex, F4GHS, will be active as E51GHS from two of the South Cook Islands during August. His schedule is as follows:
August 7-16th -- from Aitutaki Island (OC-083)
August 16-25th -- from Rarotonga Island (OC-013)
Activity will be holiday style on various HF bands using a K3 into a home-made vertical (20m). QSL via his home callsign.
-[OPDX # 1325 August 7, 2017]
FO, FRENCH POLYNESIA (Update/IOTA Tour/Reminder). Operators Le/F1TCV, Didier/F6BCW and Dominique/F6DTZ will be active as TX5EG from their fourth island in the French Polynesia Islands. Activity will be from Moorea Island (OC-046), Windward Islands (WW Loc. BH52BM), between August 15th-September 5th. Operators may also sign FO/home call. Operations will be on 80-12 meters using CW, SSB, RTTY and PSK. Suggested frequencies are:
CW - 3527, 7027, 14027, 18077, 21027 and 24907 kHz
SSB - 3677, 7127, 14127, 14227, 18127, 21227, 21277 and 24927 kHz
QSL via F6BCW, direct, by the REF Bureau or eQSL.
-[OPDX # 1326 August 14, 2017]
FY, FRENCH GUYANA. Christian, F5UII, will once again be active as FY/F5UII from the "Radio club de Kourou" (RACK) radio club station FY5KE in Kourou City between August 14-18th. Activity will be limited because of his work, but look for him on 40-10 meters (depending of propagation) using mainly SSB and RTTY. He suggests looking for him during his spare time approximately before 1100z, and between 1500z and 1700z, and also in the evening after 2100z. Christian also mentioned that he will use his TS480 (100W) and may be a little bit on 80m, and 160m (with Shunt Feed mast). After his on-air activities, you will be able to check his online log for your QSO at:
http://www.f5uii.net/en/carnet-de-trafic
QSL via his home callsign, direct or by the Bureau. For more details and updates, visit:
http://www.f5uii.net/en
Christian also has a Twitter account: https://twitter.com/f5uii
-[OPDX # 1326 August 14, 2017]
OJØ, MARKET REEF (Press Release from Martti, OH2BH, dated August 9th). [edited] RADIO ARCALA SALUTES JOE TAYLOR, K1JT, AND THE DEVELOPMENT TEAM OF FT8 MODE ON HF PLUS ACTIVATE 4M MS FSK441 AND 60M. OJØBH/OJØJR QRV: 12th–19th August 2017 -- Tuning the poor 20m band month after month represents a major frustration nowadays. Particularly on SSB, only the occasional DX signal breaks the sea of noise, consequently reducing activity levels even further. However, that very noise could be a new lease of life, if one were to copy signals below it. They are there every day. Indeed, with their huge antennas and state-of-the art receivers, DXers can dig even deeper into the noise and log plenty of good DX faster than one can think.
Martti, OH2BH/OJØBH, and Henri, OH3JR/OJØJR, will attempt to land on Market Reef this Saturday PM, weather permitting, and will immediately break the noise floor by getting FT8 QSOs underway. They will also hand out the OJØ multiplier in the Worked All Europe DX Contest (WAEDC) and appear on a variety of traditional modes in the event of any available audible propagation. This is the week originally dedicated to a youth expedition to Market Reef, and to releasing options for selected 2018 DXpeditions, involving both youth and seasoned DX groups.
Demonstrating Amateur Radio to today's youth thus sports a new booster shot, raising their potential interest to new heights.
A beta release of WSJT-X, version 1.8.0-rc1, included a new FT8 mode, featuring a faster turnaround, and it's already a major breakthrough on the HF bands. FT8 offers "sensitivity down to –20 dB on the AWGN channel," and contacts 4 times faster than JT65 or JT9. An auto-sequencing feature offers the option to respond automatically to the first decoded reply to your CQ.
https://physics.princeton.edu/pulsar/k1jt/Release_Notes_1.8.0.txt
-[OPDX # 1326 August 14, 2017]
PACIFIC TOUR (5W & YJ, Update). Bert, CX3AN, will be signing 5WØHA from Upolu Island (OC-097), Samoa, between August 19-26th. Activity will be holiday style using 100 watts into dipoles. QSL via his home address. The week after, Bert will be active as YJØCX from Port Vila, Efate Island (OC-035), Vanuatu, between August 26-30th. Activity will also be holiday style using 100 watts into dipoles. QSL both operations via his home callsign.
-[OPDX # 1326 August 14, 2017]
PYØT, TRINDAD AND MARTIN VAZ ISLANDS (Cancelled). It was announced this past week that the ZZØT operation/project to Trindade and Martin Vaz Islands has been cancelled. No other details were provided.
-[OPDX # 1323 July 24, 2017]

SOLAR ECLIPSE (For Hams and Non-Hams). Ward, NØAX, reports: "OK, ham radio folks - I'm sure all of you have family, friends, clubs who are interested in the eclipse. Knowing you're a ham radio operator, maybe they asked how the eclipse will affect radio waves (a.k.a. 'RF' for 'radio frequency'). Here's an article I wrote in Nuts & Volts magazine presenting several things they can do with radios they already have to hear the effect them- selves. There are other articles to read listed in the article and on the HamSCI website, too. Got your goggles yet?"
http://hamsci.org/article/non-ham-participation-observing-eclipses-rf-effects
http://www.nutsvolts.com/magazine/article/the-solar-eclipse-and-ham-radio
The solar eclipse will take place on Monday, August 21st.
ADDED NOTE (by Editor): Look for Perry, N7FST, to be active in celebrating the "Great American Total Solar Eclipse." He will operate with the special event callsign K7E (K7Eclipse). Operation will be Monday, August 21st, at 1400z, until August 22nd, at 0200z. Activity will be on 7183 kHz and 14256 kHz plus or minus QRM. He states, "I'll be operating portable near the path of eclipse totality from the state of Wyoming. I have a nice QSL card for this special event. You can send me your QSL card, and I'll send you the special K7E eclipse QSL card. QSL direct to N7FST (also QRZ and LoTW)."
https://www.qrz.com/hampages/n7fst/solar_eclipse_b_w.jpg
-[OPDX # 1322 July 17, 2017]
SU, EGYPT. Chris, DM4DX, now living in Cairo, Egypt, will be active as SU/DM4DX from Egyptian Radio Amateurs Society Club station (SUØERA) until November. He is trying to get an Egyptian SU9 callsign. Activity has been on 20-10 meters using SSB. QSL only via LoTW. No Bureau or direct QSLs.
-[OPDX # 1323 July 24, 2017]
SV8, GREECE. Berkin, TA3J, will be active as SV8/TA3J from Mytilene-Lesvos (EU-049) between August 14-17th. Activity will be on 160-6 meters using SSB and FM. QSL via TA3J.
-[OPDX # 1323 July 24, 2017]

T6, AFGHANISTAN. Salvatore, IZ1BWB, is now active as T6/IZ1CCK from Herat, Afghanistan, until December. He is there as a Brigade Alpine "Taurinense" in the Italian Army. Activity has been mainly on 20 meters using CW and SSB. QSL via IZ1BWB, direct or by the Bureau.
-[OPDX # 1323 July 24, 2017]

VK9C, COCOS (KEELING) ISLAND. Andy, VK9CC, reports, "Please note I am back on the air from Cocos Islands, no regular skeds, mostly on CW, on 80 and 160 meters now. Best 73." Read his QRZ.com page for more interesting details.
-[OPDX # 1321 July 10, 2017]
VP9, BERMUDA. Christoph, DL1YAF, is now active as VP9/DL1YAF from the Paget Parish (Grid FM72OG) on Bermuda (NA-005) until August 27th. Activity will be holiday style on CW, SSB and PSK31, using a Elecraft KX3 (KXPA100) into a MP1 Vertical Antenna and Dipole. QSL via home callsign, by the Bureau or direct.
-[OPDX # 1326 August 14, 2017]
W2, UNITED STATES (LH Op). The Old Barney ARC will be operating as W2T from the Tucker's Island Lighthouse (USA-911) in the Tuckerton Seaport in NJ on August 19th, and possibly again on August 20th, but not yet confirmed. Lighthouse-Museum details at <http://www.tuckertonseaport.org>. This Lighthouse is a replica of the original which fell into the sea during a storm in 1927. It currently features a museum and is the focal point of the Tuckerton Seaport. It is not on an island and it does not count for IOTA or USI. Operation is planned mainly on 40 and 20 meters SSB with some CW from about 1300-2100 UTC each day. QSL via N2OO.
-[OPDX # 1323 July 24, 2017]
Z8, SOUTH SUDAN. Diya, YI1DZ, is once again active as Z81D from Juba, South Sudan, and was heard on Saturday. Activity was mainly on 40 meters SSB. QSL via OM3JW. He also use ClubLog and LoTW.
-[OPDX # 1322 July 17, 2017]
---
Older Items
3W, VIETNAM. Hiroshi, 7M2VPR, is now active as XV9VPR from an island in the South China Sea Coast South IOTA Group (AS-130). His length of stay is not known at this time. He was heard on 15 meters SSB (21284 kHz at 1009z). QSL via his home callsign.
-[OPDX # 1313 May 1, 2017]
3W, VIETNAM. Megumu, JA6QGF, is now active as 3W9A from Ho Chi Minh City. His length of stay is currently unknown. Activity has been on 17 and 6 meters SSB. QSL via his home callsign.
-[OPDX # 1319 June 19, 2017]
5TØ, MAURITANIA. Jean, ON8RA/5TØJL, will be active with the special callsign 5TØITU from Mauritania until December 31, 2017. The special callsign will be tentatively activated during ITU events that are listed on his QRZ.com page. Activity will be on 80-10 meters using CW. Suggested frequencies are 3504, 7004, 10104, 14004, 18069, 21004, 24893 and 28004 kHz. QSL via ON8RA.
-[OPDX # 1301 January 23, 2017]
VP8/H, SOUTH SHETLAND ISLANDS. Alexander, UA1OJL, will be active as RI1ANO from the Bellingshausen Base Station (WAP RUS-01) on King George Island (AN-010) between April 2017 and April 2018. Activity will be on various HF bands using CW, SSB and the Digital modes. QSL via RN1ON, ClubLog's OQRS or LoTW.
-[OPDX # 1304 February 13, 2017]
ZL7, CHATHAM ISLANDS. Operators Chris/ZL2DX and XYL Catherine/ZL2QT will be active as ZL7DX and ZL7QT, respectively, from Chatham Islands (OC-038) sometime in May for the next 3 years or longer. Activity will be on various HF bands plus 6m EME. QSL direct to: Chris Hannagan, Waitangi, Chatham Islands 8013, New Zealand.
-[OPDX # 1308 March 13, 2017]