Eastern Iowa DX Association
Welcome to the Eastern Iowa DX Association web site! Our club is open to any amateur radio operator who is interested in DXing and/or contesting. You are cordially invited to attend club meetings and get aquainted. We have many friendly, outgoing members with varied areas of expertise, who would be delighted to meet you and offer their help as needed. (Detailed club information is on the "About EIDXA" page.)


---
EIDXA News
(Updated April 10, 2017)
EIDXA April 2017 Meeting
The next EIDXA meeting will be held on Friday, April 21 at our new meeting location, Mercy Medical Center in Cedar Rapids. Complete details, including an aerial photo map, may be found on the "Meetings" page.
April 2017 Eastern Iowa DXer
The April 2017 edition of the Eastern Iowa DXer is now available on the "Newsletter" page. Bob, WØGXA, has put together a great newsletter, loaded with good information, including a tour-de-force article on what it takes to put on a first-rate DXpedition, a historical piece by WB8ZRL, KØJGH's trip to Hawaii, a great new column on contesting by NØYY (a master contester!), two member profiles, and a ton of other great info. Be sure you don't miss it!
New EIDXA Email Reflector
The new reflector is now on line. To post to the new reflector, email your message for the group to: eastern-iowa-dx-association@googlegroups.com
You may visit the group homepage here:
https://groups.google.com/group/eastern-iowa-dx-association
The group homepage has a complete archive of all messages exchanged via the group. This new reflector allows us to forward photos or other files to the group. Nice!
3YØZ Certificate of Appreciation
EIDXA has received a certificate of appreciation from the 3YØZ Bouvet Island DXpedition in recognition of our financial support of this forthcoming operation. Current plans are to be on the air in early 2018.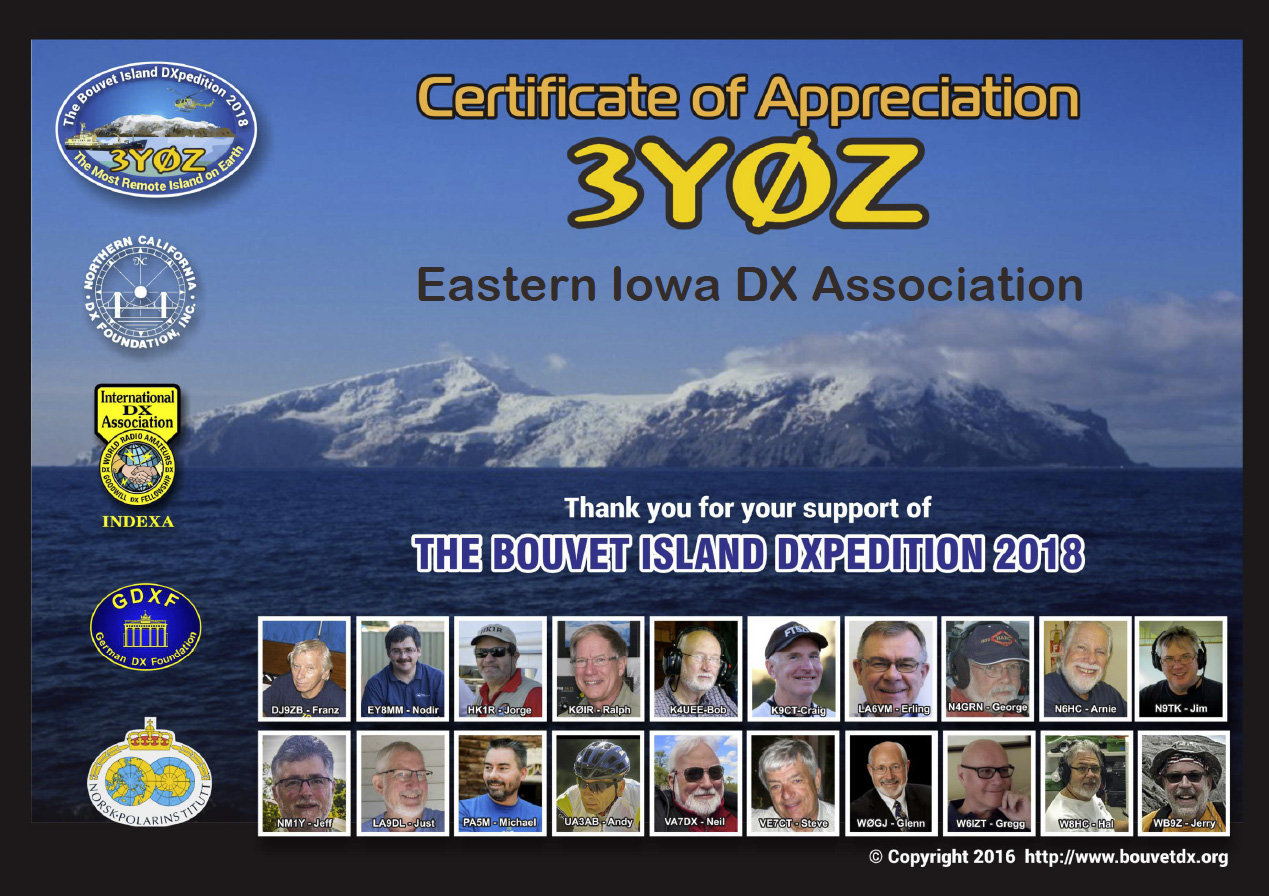 Please click on this image to see the full-size certificate. You may also wish to visit the Bouvet Island DXpedition web site. The EIDXA logo is on the "Sponsors" page.
---
DX News (Updated April 30, 2017)
DX News items, unless otherwise noted, are courtesy of:
The Ohio/Penn DX Bulletin (OPDX)
Tedd Mirgliotta, KB8NW, Editor (kb8nw@barf80.nshore.org)
For subscription info, please see http://hamnet.org/mailman/listinfo/opdx

3W, VIETNAM. Peter, DF7DQ, will be active as 3W9DQ from Vietnam between May 1-10th. Activity will be on various HF bands. QSL via his home callsign or ClubLog
-[OPDX # 1311 April 3, 2017]
3W, VIETNAM. Jesus, JP7MBO, will be active as XV9G from Ho Chi Minh City between April 19th and May 9th. He states that he will be active on 20 meters during the daytime and 40 meters during the night time and if the band is open, 15 meters. Operations will be mostly CW and SSB occasionally.
-[OPDX # 1312 April 10, 2017]
3W, VIETNAM. Yuri, RMØF (ex RAØFU), will be active as 3W9FU from Nha Trang between May 1-10th. Activity will be holiday style on 40-10 meters using CW, SSB and the Digital modes. Equipment is a TS-480HX and 200 watts into a SteppIR and Buddipole. Yuri mentions he "may" also be active as 3W9FU/p from IOTA AS-157 for 2-3 days. QSL via LoTW, ClubLog's OQRS and Bureau.
-[OPDX # 1313 May 1, 2017]
3W, VIETNAM. Hiroshi, 7M2VPR, is now active as XV9VPR from an island in the South China Sea Coast South IOTA Group (AS-130). His length of stay is not known at this time. He was heard on 15 meters SSB (21284 kHz at 1009z). QSL via his home callsign.
-[OPDX # 1313 May 1, 2017]
4X, ISRAEL. Israel stations are now active and currently using the special prefixes 4X69 and 4Z69 until May 10th to mark their country's 69th anniversary. Stations heard: 4X69KS (4X1KS), 4X69TT (4X6TT), 4X69VF (4X1VF), 4Z69AD (4Z5AD), 4Z69KD (4Z1KD) and 4Z69LA (4Z5LA).
-[OPDX # 1313 May 1, 2017]
8Q, MALDIVES. Jim, G3VDB, is once again active as 8Q7EJ, but this time from Vilamendhoo Island (AS-013) Resort until May 7th. Activity will be holiday style mainly on 20 meters, with possible 30/17m operations, and using mostly CW with some PSK, RTTY and SSB. QSL via his home callsign or ClubLog's OQRS. The logs are available on the ClubLog Web page at: http://www.clublog.org/logsearch/8Q7EJ
-[OPDX # 1313 May 1, 2017]
A2, BOTSWANA (Update). A UK Team will be active as A25UK from Botswana between April 25th and May 6th. Operators mentioned are Nobby/GØVJG, Dave/ G4BUO, Nick/G4FAL, Graham/G4FNL, Tony/G4LDL, YL Glenys/G8KWD, Guy/GØUKN, Martin/MØMDR, Toby/MØTBS and Giles/MØTGV. Activity will be on 160-6 meters using CW, SSB, RTTY and PSK. Suggested frequencies are available as a PDF file per the following languages (EN/IT/ES/FR/DE/JA/RU) at:
http://www.a25uk.com/2017-2#mhz
QSL via MØOXO or via ClubLog's OQRS. Also, visit their new Web page at:
http://www.a25uk.com
-[OPDX # 1309 March 20, 2017]
A7, QATAR. Martin, MWØBRO, will be active as A7/MWØBRO from the QARS club station May 4-18th. Activity will be on 40-10 meters using mainly CW. He is not sure if the station has 160/80/6 capability at this time. QSL via his home callsign, direct or eQSL.
-[OPDX # 1313 May 1, 2017]
E5, SOUTH COOK ISLANDS. Operators Bruce/AD7MM (E51BAS) and Doug/W6HB
(E51DLD) will be active from Rarotonga Island (OC-013) between April 30th and May 12th. Activity will be holiday style on 160-10 meters, and operating from E51AND and E51KC QTHs (also possibly from E51JD, E51BQ and E51CG QTHs). QSL via their home callsigns direct (see QRZ.com).
-[OPDX # 1309 March 20, 2017]
FO & FO/M, FRENCH POLYNESIA AND MARQUESAS ISLANDS. Max, IZ2ZTQ, will be active as FO/IZ2ZTQ from the following French Polynesian Islands between May 1st and July 31st (specific dates not known):
OC-027 -- Fatu Hiva Island, Marquesas Islands; WW Loc. CH09pm; DXCC FO/M
OC-046 -- Tahiti Island, Windward Society Islands; WW Loc. BH52ek; DXCC FO
OC-066 -- Rangiroa Island, Tuamotu Archipelago; WW Loc. BH64hs; DXCC FO
OC-067 -- Bora Bora Island, Leeward Society Islands; WW Loc. BH43dl; DXCC FO
Activity will be on 40/30/20/17/15 meters using SSB, PSK, RTTY and JT65. QSL via IZ2LSP direct, via IZ2ZTQ by the Bureau, LoTW or eQSL.
-[OPDX # 1308 March 13, 2017]
FS, ST. MARTIN. John, K9EL, will once again be active as FS/K9EL from Orient Bay, St. Martin (NA-105, DIFO FS-001, WLOTA 0383, WW Loc. FK88) between May 1-15th. Activity will be holiday style on 80-10 meters plus 6 meters (if it is open) using CW, SSB and RTTY. His equipment will be an IC-7000 with SPE 1.3 amplifier running 500 watts into a 3 element Yagi on 6m, dipoles for 10-30m and a vertical for 40-80m. John will usually operate on 60m if there is interest. There will be daily uploads to Club- Log and LoTW. QSL via his home callsign or on ClubLog's OQRS (for direct and Bureau QSLs). His operating frequencies (except during contests) will be announced in real time via Twitter at: https://twitter.com/FSK9EL Requests for schedules can be sent via his QRZ.com E-mail address or his Twitter account @FSK9EL. John will also monitor the ON4KST 50MHz Region 2 chat room to watch for 6 meter openings.
-[OPDX # 1311 April 3, 2017]
H44, SOLOMON ISLANDS. Bernhard, DL2GAC, is now active as H44MS from Malaita Island (OC-047) in the Solomon Islands, until May 10th. Activity has been on 160-6 meters on SSB. QSL via his home callsign.
-[OPDX # 1313 May 1, 2017]
I, ITALY (Special Event). Look for special event station IIØCXX to be active between March 1st and May 31st, on Saturday during the Collins Collectors Association of Europe (CCAE) Net, at 1000z on 7165 kHz. This activity is in remembrance of the 30th anniversary of Arthur A. Collins's, WØCXX, death (1987-2017) founder of the Collins Radio Company -- he became a Silent Key in 1987. QSL via IKØIXI only direct, NO Bureau and NO eQSL.
-[OPDX # 1307 March 6, 2017]
JD1, OGASAWARA. Harry, JG7PSJ, will once again be active as JD1BMH from Chichijima Island (AS-031) between April 30th and May 5th. Activity will be on 160-10 meters using CW, SSB and RTTY. QSL via the Bureau to JD1BMH or direct to JG7PSJ. Visit his Web page for more details at: http://sapphire.es.tohoku.ac.jp/jd1bmh Also, on Twitter: https://twitter.com/jd1bmh
-[OPDX # 1313 May 1, 2017]
JW, SVALBARD. Kamil, SQ8KFH, is now active as JW/SQ8KFH from the Polish Polar Station at Hornsund, Svalbard (EU-026), until May 20th. Activity will be on 20 meters using SSB, PSK and RTTY. QSL via his home callsign, by the Bureau or LoTW.
-[OPDX # 1306 February 27, 2017]
OX, GREENLAND. Michael, OZ1KZX, is once again active as OX/5P1KZX from Greenland (NA-018) until May 5th. Activity will be limited to spare time after his work duties. He will be on 80-10 meters, but the best bands are on 40/20/17 meters on the Digital modes. Radio will be an IC-7000 with 10-30 watts into a G5RV or End-feed long-wire. QSL only via LoTW or eQSL. NO PAPER QSL.
-[OPDX # 1313 May 1, 2017]
PYØF, FERNANDO DE NORONHA. Janio, PY4NY, will once again return to Fernando de Noronha Island as PYØNY. He informs OPDX, "Activation has already been validated by ARRL and this callsign has been accepted for DXCC credit. The activation will be from May 5-15th, and its aim is to celebrate the 65th anniversary of the creation of our valuable Smoke Squadron which is the Brazilian Air Force's Official Squadron. On this activation, I intend to give special attention to the bands of 160m and 80m, for these are bands that have been little explored and I believe they are the goal of many hams around the world. I will also be active on the other bands on SSB, CW, RTTY and the Digital modes. The antennas will be Delta Loop, MorGain, dipoles, and some accessories all built by me on an artisan way. The QSL policy details are on my QRZ.com page."
-[OPDX # 1313 May 1, 2017]
S7, SEYCHELLES. Ivan, LZ1PJ, will be active as S79J from the Lemongrass Lodge on Mahe Island (AF-024) between May 2-10th. Activity will be holiday style on various HF bands on CW only using an Icom IC-706, LDG ATU and simple antennas (G5RV and/or DunaX multiband vertical). He will also give out SKCC QSOs. QSL via his home callsign, direct, by the Bureau and possibly LoTW.
-[OPDX # 1312 April 10, 2017]
S7, SEYCHELLES (EME Op!). Tony, RM8A, will be on a solo DXpedition to La Digue Island (AF-024, WW Loc. LO75vp) between April 29th and May 12th. He will use the callsign S79H and will be active on 144 MHz EME only. Tony states, "There is a lot of equipment to take.... activity costs are quite high. I will be very grateful for any donation to bring them down, and make this activity fun for both sides. It is a long-distance travel - three planes to take, two ferries with an overweight and over-sized luggage. If you want to support this DXpedition, you can do it using PayPal button on QRZ.com. Every little help is very much appreciated!" QSL via RM8A.
-[OPDX # 1313 May 1, 2017]
TG, GUATEMALA. Tom, KCØW, is now active as TG7/KCØW from Guatemala until May 8th. Activity is on 40-6 meters with 80 watts. CW only. A 200 milli-watt WSPR beacon is transmitting part time on 40/30/20 meters. Tom states, "This is an ultra-lightweight DXpedition. Yaesu 857d to a cheap Telescopic Antenna directly over salt water. Configured as an inverted L on 40/30 meters. I'm traveling very light. Total weight of this entire DXpedition is 9 Kg." QSL only direct to KCØW. NO LoTW or Bureau. ADDED NOTE: Next stop for Tom is Guyana signing 8R1/KCØW between May 10th and June 8th.
-[OPDX # 1313 May 1, 2017]
TG, GUATEMALA. Douglas, VE7VZ, will be active as TG9/VE7VZ from Antigua, Guatemala, between April 21st and May 15th. Activity will be on various HF bands. All contacts will be uploaded to "Logbook of the World" (LoTW), on a daily basis if possible. Douglas states that he may be active as HR5/VE7VZ from Honduras for a few days during this period if time permits. QSL both TG9/VE7VZ and HR5/VE7VZ via VE7BV, direct, by the Bureau or LoTW.
-[OPDX # 1311 April 3, 2017]
V4, ST. KITTS AND NEVIS ISLANDS. Alex, W1CDC, will be active as V4/W1CDC from Saint Kitts Island (NA-104) between April 24th and May 7th. Activity will be holiday style on 160-10 meters including the 30/17/12 meters using mainly CW. QSL via his home callsign direct. NO Bureau, LoTW or ClubLog.
-[OPDX # 1310 March 27, 2017]
V5, NAMIBIA. Stefan, HB9JAB, will be active as V51/HB9JAB from Namibia between April 18th and May 8th. Activity will be holiday style on the HF bands using a Yaesu FT-891 HF transceiver and ATAS Antenna installed on the bush camper. QSL via eQSL or LoTW.
-[OPDX # 1311 April 3, 2017]
VK9L, LORD HOWE ISLAND. Christoph, DL1YAF, will once again be active as DL1YAF/VK9L from Lord Howe Island (OC-004) between May 1-8th. Activity will be holiday style on 80-10 meters on CW and SSB, using KX3 HF transceiver with KPA 100 watt amp into a vertical and dipole antennas. QSL via his home callsign, direct or by the Bureau.
-[OPDX # 1313 May 1, 2017]
VQ9, CHAGOS. Jeremy, N1ZZZ, will once again try to be active as VQ9ZZ from Diego Garcia (AF-006) sometime between late April and mid-June (subject to change). He was there in December, but did not operate and states, "I have renewed my VQ9ZZ license, but since the club shack is gone, I didn't get to work from the island this trip. I am hoping to bring the proper equipment for some 'field day' style operating in April 2017.... The club station (VQ9X) has dismantled a few years ago, so the few of us left to operate there have to bring portable set ups ashore which makes for challenging operating conditions, especially with the bands such as they are." He informs OPDX that he will operate this time on 20/17 meters, SSB and various low power Digital modes using a Icom IC-7100 transceiver with wire vertical antenna. There may be some operations as VQ9ZZ/MM (not for DXCC credit) from the ship when underway using same modes/bands and better antenna. QSL via his home callsign, direct, by the Bureau or LoTW.
-[OPDX # 1306 February 27, 2017]
ZL7, CHATHAM ISLANDS. Operators Chris/ZL2DX and XYL Catherine/ZL2QT will be active as ZL7DX and ZL7QT, respectively, from Chatham Islands (OC-038) sometime in May for the next 3 years or longer. Activity will be on various HF bands plus 6m EME. QSL direct to: Chris Hannagan, Waitangi, Chatham Islands 8013, New Zealand.
-[OPDX # 1308 March 13, 2017]
---
Older Items
5TØ, MAURITANIA. Jean, ON8RA/5TØJL, will be active with the special callsign 5TØITU from Mauritania until December 31, 2017. The special callsign will be tentatively activated during ITU events that are listed on his QRZ.com page. Activity will be on 80-10 meters using CW. Suggested frequencies are 3504, 7004, 10104, 14004, 18069, 21004, 24893 and 28004 kHz. QSL via ON8RA.
-[OPDX # 1301 January 23, 2017]
VP8/H, SOUTH SHETLAND ISLANDS. Alexander, UA1OJL, will be active as RI1ANO from the Bellingshausen Base Station (WAP RUS-01) on King George Island (AN-010) between April 2017 and April 2018. Activity will be on various HF bands using CW, SSB and the Digital modes. QSL via RN1ON, ClubLog's OQRS or LoTW.
-[OPDX # 1304 February 13, 2017]
YXØV AVES ISLAND. Pilot Station Steve, W4DTA, announced this past week that the YXØV DXpedition to Aves Island has not been cancelled, but put on hold by the Venezuelan Navy. This is due to multiple issues outside of their control (Weather, Politics, Protests) the Navy has asked to delay their departure. They are expected to meet with the Navy personnel in charge of the logistics of the transportation to the island by the middle of next week at the latest, and they hope to have a clear schedule for departure. The team is ready to go, and have worked hard to put together all the equipment, antennas, computers, cables, etc.....
-[OPDX # 1283 September 19, 2016]