Eastern Iowa DX Association
Welcome to the Eastern Iowa DX Association web site! Our club is open to any amateur radio operator who is interested in DXing and/or contesting. You are cordially invited to attend club meetings and get aquainted. We have many friendly, outgoing members with varied areas of expertise, who would be delighted to meet you and offer their help as needed. (Detailed club information is on the "About EIDXA" page.)


---
EIDXA News
(Updated March 20, 2017)
EIDXA April 2017 Meeting
The next EIDXA meeting will be held on Friday, April 21 at our new meeting location, Mercy Medical Center in Cedar Rapids. Complete details, including an aerial photo map, may be found on the "Meetings" page.
EIDXA Members on Earhart Expedition
EIDXA club members Tom, NYØV and Rod, KØDAS, along with Bryan, KAØYSQ, are members of the Nauticos team currently in the Howland Island (KH1) area (1,700 miles southwest of Hawaii) for the deep-water search for Amelia Earhart's Lockheed Electra L-10E aircraft. The expedition will last until mid-April. This is Tom and Rod's third trip to this area in search of the Earhart aircraft – hopefully, the third time is the charm! Club members can keep updated on their progress via the Nauticos web site (http://nauticos.com/).

If workload and propagation permit, they will listen for EIDXA members on 40 or 80 meters at our local sunrise, 30 meter CW during our morning hours, and 15 and 17 meters in the afternoon, using homecalls/MM. There is a possibility they may operate from V73 (Marshall Islands) around April 5th or 6th.

Tom, Rod and Bryan have very graciously agreed to make a presentation on this amazing endeavor at the April 21 EIDXA Meeting!
New EIDXA Email Reflector
The new reflector is now on line. To post to the new reflector, email your message for the group to: eastern-iowa-dx-association@googlegroups.com
You may visit the group homepage here:
https://groups.google.com/group/eastern-iowa-dx-association
The group homepage has a complete archive of all messages exchanged via the group. This new reflector allows us to forward photos or other files to the group. Nice!
January 2017 Eastern Iowa DXer
The January 2017 edition of the Eastern Iowa DXer is available on the "Newsletter" page. Bob, WØGXA, has introduced a new, very attractive, interactive format for the newsletter. It is loaded with lots of good info. Be sure you don't miss it!
3YØZ Certificate of Appreciation
EIDXA has received a certificate of appreciation from the 3YØZ Bouvet Island DXpedition in recognition of our financial support of this forthcoming operation. Current plans are to be on the air in early 2018.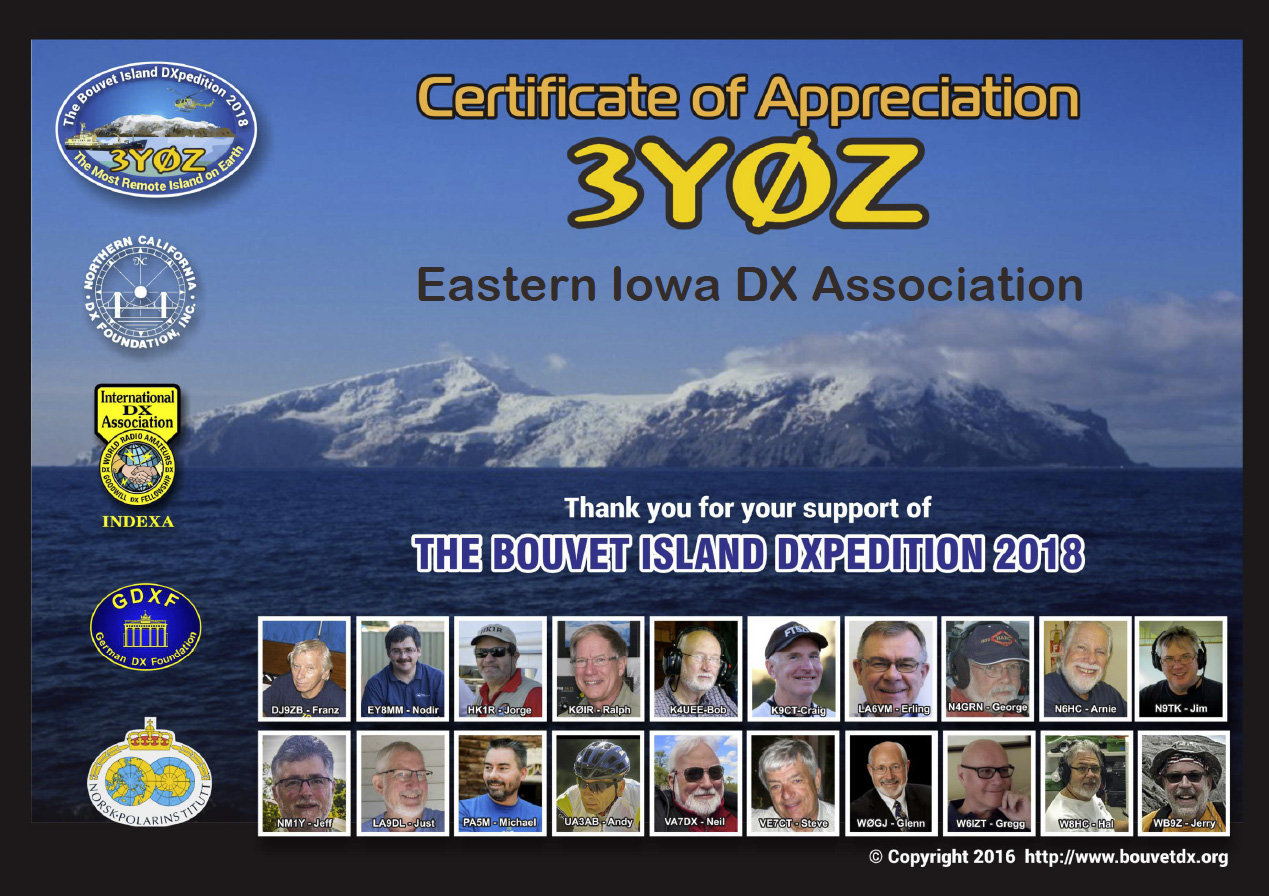 Please click on this image to see the full-size certificate. You may also wish to visit the Bouvet Island DXpedition web site. The EIDXA logo is on the "Sponsors" page.
---
DX News (Updated March 26, 2017)
DX News items, unless otherwise noted, are courtesy of:
The Ohio/Penn DX Bulletin (OPDX)
Tedd Mirgliotta, KB8NW, Editor (kb8nw@barf80.nshore.org)
For subscription info, please see http://hamnet.org/mailman/listinfo/opdx

3B8, MAURITIUS. Paul, G8AFC, will be active as 3B8HE from Mauritius Island (AF-049) between February 1st and April 5th. Activity will be on 40-6 meters. QSL via his home callsign.
-[OPDX # 1302 January 30, 2017]
3D2/P, ROTUMA. Antoine, 3D2AG, will once again be active as 3D2AG/P from Rotuma Island between March 25th and April 22nd, pending shipping schedule. Activity will be on 160-6 meters, including 60m, using CW, SSB, RTTY and PSK31. Operations will be entirely Solar-Powered using Sustain-able Renewable Energy while running barefoot with 100 watts into a Spider-beam and wire antennas. He mentions, "This will be a one-man DXpedition so not on the air at all times :-). As I will have no internet or phone connection while in Rotuma, please check cluster for spots. Operating at or close to the usual DX frequencies; also will try and cater for novice station band restrictions by listening split above xx.025 for CW." QSL via his home callsign direct only or PayPal (see QRZ.com). Also, watch QRZ.com for update by Antoine.
-[OPDX # 1308 March 13, 2017]
5X, UGANDA. Anton, ON6NL, is once again active as 5X8C from Entebbe. The length of his stay is currently unknown. Activity will be on various HF bands. QSL via his home callsign, direct, by the Bureau, LoTW or ClubLog.
-[OPDX # 1308 March 13, 2017]
9N, NEPAL. Kazik, SP6AXW, is returning to Nepal for his vacation and this time with his family. Activity will be holiday style signing as 9N7XW again between March 15-31. Activity will be on various HF bands. QSL via his home callsign or LoTW.
-[OPDX # 1307 March 6, 2017]
A3, TONGA (Rare IOTA/Update). Masa, JAØRQV, will once again be active from Tonga. This time he will activate Niuafo'ou Island (OC-123) as A35JP/P between March 22-28th [He was originally schedule to go between September 28th and October 4th, 2016, but had to postpone]. It has been 7 years since last activation of A33A (by K6HFA). OC-123 is currently claimed by 17.9% of participants based on IOTA Web site (as of 17th February 2017). Operations will be on 40-6 meters using CW and SSB. His equipment is an IC-7300 (w/100W) into a vertical antenna. QSL via his home callsign, by the Bureau, direct (SASE w/1 IRC), LoTW or ClubLog. For more details and updates, visit his Blog page at: href="http://blog.goo.ne.jp/rqv
-[OPDX # 1305 February 20, 2017]
E5, SOUTH COOK ISLANDS (Update). Milan, OK1DWC, who is still active as E51DWC from the Rarotonga Islands (OC-013, WAZ-32), will be there at least until the end of March. Milan is active every day on 160-10 meters using CW, SSB and RTTY. Look for him to be in the CQWW WPX DX SSB Contest (March 25-26th) as a Single-Op/All-Band/High-Power entry. QSL via his home callsign. Confirmation is not a problem across all OQRS's and the information can be found on:
http://QRZ.com/lookup/E51DWC
http://QRZ.COM/lookup/OK1DWC
http://www.hamqth.com/E51DWC
-[OPDX # 1309 March 20, 2017]
FS, ST. MARTIN. Serge, VE1KG, is now active as FS/VE1KG from Saint Martin Island (NA-105) until April 30th. Activity will be holiday style on various HF bands. QSL via VE1KG direct only. No Bureau, eQSL or LoTW.
-[OPDX # 1308 March 13, 2017]
FY, FRENCH GUIANA. Gerard, F6CKD, is again and now active as FY/F6CKD from French Guiana until March 28th. Activity is on 40-15 meters using SSB. QSL via his home callsign.
-[OPDX # 1304 February 13, 2017]
HBØ, LIECHTENSTEIN. A group of Dutch radio amateurs (from the PI4RAZ Radio Club) will be active as HBØ/homecall from Liechtenstein between April 1-8th. Operators are Mans/PA2HGJ, Robert/PA2RDK, Frank/PA3CNO, Paul/PA3DFR, Henry/ PA3HK, Gert/PEØMGB and Piet/PE1FLO. Operations will be on all bands, 160-10 meters, using mainly CW and some SSB/Digital modes with an emphasis on the new 60m band. QSL via PE1FLO.
-[OPDX # 1309 March 20, 2017]
HC, ECUADOR. John, K7HV, is now active as HC1HB and often travels to Ecuador for volunteer work and play. This time around, he will be in Ecuador until April 13th. When he is not on the air in Quito, John will be operating out of Puyo and indigenous communities in Ecuador's Pastaza Province, operating as HC1HB/7. John will be using his Elecraft KX2 QRP rig with solar powered batteries while in the field and will have his Icom IC-718 while in locations with main power. His antenna will be an end-fed wire and an ATU. QSL via K7HV (w/SASE). NON-US stations please send 1 green stamp. John states, "IF I end up working a lot of stations, I might stumble through the process of setting up on LoTW."
-[OPDX # 1308 March 13, 2017]
HI, DOMINICAN REPUBLIC. Boris, N3SY, will once again be active as HI3/N3SY from the Dominican Republic between March 12-31st. Activity will be on all HF bands using K3 transceiver and FT-100D with 50-70 watts into a 1.5 meters Vertical and some other antennas. QSL only direct to his home callsign.
-[OPDX # 1307 March 6, 2017]
HR, HONDURAS. By the time you read this, Gerard, F2JD, is once again active as HR5/F2JD from Honduras until April 24th. Activity will be on various HF bands using CW, SSB and RTTY. QSL via F6AJA, direct or via the French REF Bureau. The log will be posted on: http://lesnouvellesdx.fr/voirlogs.php
-[OPDX # 1302 January 30, 2017]
I, ITALY (Special Event). Look for special event station IIØCXX to be active between March 1st and May 31st, on Saturday during the Collins Collectors Association of Europe (CCAE) Net, at 1000z on 7165 kHz. This activity is in remembrance of the 30th anniversary of Arthur A. Collins's, WØCXX, death (1987-2017) founder of the Collins Radio Company -- he became a Silent Key in 1987. QSL via IKØIXI only direct, NO Bureau and NO eQSL.
-[OPDX # 1307 March 6, 2017]
J2, DJIBOUTI. Dane, S53T, reports, "I got my J28ND license, valid till end of 2019. For now, only LP and homemade vertical antennas. QSL info via my QSL manager Slavko - S57DX."
-[OPDX # 1310 March 27, 2017]
J3, GRENADA. Franz, OE2SNL, is now active as J3/OE2SNL from Grenada (NA-024) until March 30th. Activity will be on 160-10 meters using a Kenwood TS-480HX into a G5RV antenna and 160m inverted L. QSL via his home callsign. For more details, see: https://www.oe2snl.at/j3-grenada-2017
-[OPDX # 1309 March 20, 2017]
J6, ST. LUCIA. Bill, K9HZ, will once again be active as J68HZ from his villa at Labrelotte Bay, Castries, St. Lucia (NA-108, WLOTA L-1336) between April 1-8th. Activity is usually on 160-6 meters using CW, SSB and RTTY. He states, "Will try to fill some band-mode slots for WAS and DXCC. Particularly looking for AK and MT in the USA to complete 8BWAS." His equipment will consist of an Elecraft K3, a 3 element beam for 20-6 meters and wire antennas for 160-30 meters. QSL via his home callsign. He does use the LoTW, ClubLog and eQSL.
-[OPDX # 1309 March 20, 2017]
JW, SVALBARD. Kamil, SQ8KFH, is now active as JW/SQ8KFH from the Polish Polar Station at Hornsund, Svalbard (EU-026), until May 20th. Activity will be on 20 meters using SSB, PSK and RTTY. QSL via his home callsign, by the Bureau or LoTW.
-[OPDX # 1306 February 27, 2017]
KCØW DXPEDITIONS. Tom, KCØW, posted the following on his QRZ.com page: "My next multi continent DXpedition will start 17 April, 2017. Unfortunately, it WON'T include Equatorial Guinea & Annobón due to not being issued the licenses. Regardless, these upcoming DXpeditions should still generate good interest. I'm also considering (gasp, wheeze) operating RTTY & PSK due to high need. No SSB operation will take place. CW #1. Full information soon."
-[OPDX # 1310 March 27, 2017]
KH2, GUAM. Antonio, EA5BY, will be active as KH2BY from Island of Guam (OC-026) between March 29th and April 10th. Activity will be on 80-6 meters (60m included). Antonio states, "I will make an effort to operate on the bands/modes where Guam/KH2 is most needed. If in need, E-mail to ea5by at yahoo dot com for a sked." QSL only via EA5BY (see QRZ.com), direct, by the Bureau, ClubLog's OQRS or LoTW.
-[OPDX # 1304 February 13, 2017]
KH2, GUAM. Operators Santos/EA4AK (AH2P) and Tony/EA5BY (KH2BY) will be active from Guam between March 30th and April 10th. Activity will be on 160-10 meters, but with a focus on the lower bands (160/80/60/40/30m) using RTTY and CW, with some SSB. Look for AH2P to operate mostly on RTTY and KH2BY mainly on CW. Reports indicate that they will be on higher bands, but mostly for western Europe. QSL AH2P is preferred via LoTW, eQSL or ClubLog's OQRS. Later all AH2P QSLs will be sent by the Bureau. Please, no direct or Bureau QSLing to AH2P to Guam's QTH. Send all your QSLs, direct or via the Bureau, to EA4AK. QSL KH2BY only via EA5BY (see QRZ.com address), by the Bureau, ClubLog's OQRS, GDURE and LoTW is OK. Do not send direct QSL to the KH2BY QTH listed on QRZ.com, please.
-[OPDX # 1309 March 20, 2017]
LY, LITHUANIA (Special Event/New Prefix). Look for two stations to be using the special prefix LY27 in Lithuania to celebrate the 27th anniversary of "The Act of the Re-Establishment of the State of Lithuania".
LY27W -- March 1-31st; QSL via LY5W
LY27A -- March 11th-April 11th; QSL via LY5A
-[OPDX # 1307 March 6, 2017]
PJ7, SINT MAARTEN. Ed, WA1ZAM, will once again be active as PJ7PL from the Royal Palms between March 18th and April 3rd. Activity will include some operations in the CQWW WPX SSB Contest (March 25-26th) as a Single-Op/Low-Power entry. Outside of the contest, activity will be holiday style on 30-10 meters using SSB and RTTY, possibly CW -- depending on what he brings down. QSL WA1ZAM.
-[OPDX # 1300 January 16, 2017]
PJ7, ST. MAARTEN. Jeff, VA3QSL, will be active again as PJ7/VA3QSL from Sint Maarten Island (NA-105, WLOTA 0711) between April 2-8th. Activity will be holiday style 40-6 meters using CW, SSB and the Digital modes. He has with him an IC-7000 w/100w, Buddipole or 20m dipole. QSL via his callsign, by the Bureau, direct (see info on QRZ.com) or LoTW.
-[OPDX # 1310 March 27, 2017]
T2, TUVALU. Operators Jacek/SP5EAQ and Marek/SP7DQR will be active as T2AQ and T2QR, respectively, from Tuvalu between March 14th and April 4th. Activity will be on 80-10 meters. Jacek will operate only SSB, while Marek will operate the Digital modes (mainly RTTY) and CW. Activity dates may change due to the unpredictability of transport during the season of cyclones. QSL both callsigns via SP7DQR, direct, by the Bureau or LoTW (after the operation). Online logs with an OQRS for the Tuvalu activities will be available on SP7DQR's Web page during the operation at <http://sp7dqr.pl/en/oqrs.php>, and on ClubLog after the operation. For more details and updates, see: http://tuvalu.sp7dqr.pl/index.html
-[OPDX # 1308 March 13, 2017]
T2, TUVALU. Tim, NL8F, will once again be active as T2TT from Tuvalu (OC-015) between March 23rd and April 13th. Activity will be on various HF bands using SSB and the Digital modes. He also plans to be in the CQWW WPX SSB Contest (March 25-26th). QSL via N7RO.
-[OPDX # 1308 March 13, 2017]
V3, BELIZE. Victor, WBØTEV, will once again be active as V31VP from Blackman Eddy Village (west of Belmopan) between March 23-28th. Activity will be on 80-10 meters using mostly SSB and RTTY, including operations in the CQWW WPX SSB Contest (March 25-26th) as a Single-Op/All-Band/ Assisted/High-Power entry. He plans to focus on Asia before/after SSB contest. QSL via his home callsign, direct or by the Bureau.
-[OPDX # 1308 March 13, 2017]
V4, ST. KITTS AND NEVIS (Update). Thaire, W2APF, will once again be active as V47JR from Nevis (NA-104) between March 18th and April 1st. Activity will be holiday style on 80-6 meters using CW and SSB. He will use an Elecraft KX3 w/100w into wire antennas. He states that he will try to self-spot when on the air. QSL direct via W2APF.
-[OPDX # 1307 March 6, 2017]
V4, ST. KITTS AND NEVIS. John, W5JON/V47JA, informs OPDX that he will once again be active as V47JA from his vacation home in Calypso Bay, St. Kitts (NA-104, WW Loc. FK87SG), located 200 feet from the Caribbean Sea, between March 16th and April 5th. Activity will be on 160-6 meters (incl.60m) using SSB. He will also be active during the CQWW WPX SSB Contest (March 25-26th) as a Single-Op/All-Band entry. Equipment is a Kenwood TS-590S and Elecraft KPA500 Amplifier. Antennas include: 31', 10-40m Vertical, and 35', 40/80m Top Loaded Vertical; shortened 160m dipole and 3 element Yagi for 6m. Also, XYL Cathy, W5HAM, will occasionally operate as V47HAM. ALL QSLs go to W5JON direct or via LoTW. NO Bureau QSLs.
-[OPDX # 1303 February 6, 2017]
V5, NAMIBIA. Tev, TA1HZ, will be active as V51/TA1HZ from the Swakopmund Beach Hotel between March 22-28th. He will use a Yaesu FT-991 running 100w to a Windom antenna. QSL via LZ3HI or LoTW.
-[OPDX # 1310 March 27, 2017]
V6, MICRONESIA. Operators Kaku/JA6REX and Toshiya/JH6HZH will once again be active as V633KS and V633ZH, respectively, from Chuuk (Truk) Islands (OC-011) between March 19th and April 3rd. Activity will probably be on 160-6 meters using CW, SSB and RTTY. Suggested frequencies are:
CW - 1822, 3513, 7013, 10115, 14023, 18079, 21023, 24894 and 28023 kHz
SSB - 3750, 7082, 14200, 18130, 21285, 24950 and 28410 kHz
RTTY - 3525, 7035, 10142, 18099, 21080, 24920 and 28080 kHz
6M - 50105/CW and 50105/SSB
QSL via V633KS via JA6REX, direct, by the Bureau or ClubLog's OQRS. QSL V633ZH via JH6HZH, direct, by the Bureau or ClubLog's OQRS. For more details and updates, see: http://v63.webcrow.jp
-[OPDX # 1300 January 16, 2017]
VP5, TURKS AND CAICOS. Operators John/AF3K and Ross/W2TT will be active VP5/homecall from Turks and Caicos Island between March 23-30th. Activity will be vacation style except for operation in the CQWW WPX SSB Contest (March 25-26th) using the callsign VP5P as a Multi-2 entry. QSL VP5P and VP5/W2TT via W2TT, direct or LoTW. QSL VP5/AF3K via LoTW.
-[OPDX # 1305 February 20, 2017]
VQ9, CHAGOS ISLANDS. Jim, ND9M (VQ96JC), from Diego Garcia Island (AF-006) informs OPDX on March 14th, "Well, the local licensing office came through for me again. The VQ917JC license I asked for just came through here this afternoon." So start looking for Jim to be on the air signing as VQ917JC. Jim told OPDX he will not make an effort on 60m at this time. His operating hours are still limited to 1200-1600z max which doesn't do much good for the NA/SA ops. He states that he will probably focus on 30, 20, and 17 meters just to get VQ9 into some logs. Jim also mentioned he did bring his satellite equipment. QSL via his home call- sign. Look for more details to be forthcoming.
-[OPDX # 1309 March 20, 2017]
ZA, ALBANIA. Operators Kees/PE1KL, Lennart/PD5LKM and YL Lisa/PA2LS will be active as ZA/PA2LS from Albania between March 22-29th. Activity will be on 160-10 meters as well as 6m and 2m using CW, SSB, PSK and RTTY. They will also be in the CQWW WPX SSB Contest (March 25-26th). QSL via PA2LS, direct or by the Bureau.
-[OPDX # 1305 February 20, 2017]
---
Older Items
4S, SRI LANKA. Peter, DCØKK, is once again active as 4S7KKG from Moragalla, Sri Lanka (AS-003, WLOTA 0762). He has been active since November 1st, and will be there until April 1st. Activity will be mainly on CW and the Digital modes with operation on 20-10 meters. QSL via DCØKK, by the Bureau (preferred) or direct (see QRZ.com). LoTW on request. All QSLs for all QSOs will be sent via the QSL Bureau.
-[OPDX # 1299 January 9, 2017]
5TØ, MAURITANIA. Jean, ON8RA/5TØJL, will be active with the special callsign 5TØITU from Mauritania until December 31, 2017. The special callsign will be tentatively activated during ITU events that are listed on his QRZ.com page. Activity will be on 80-10 meters using CW. Suggested frequencies are 3504, 7004, 10104, 14004, 18069, 21004, 24893 and 28004 kHz. QSL via ON8RA.
-[OPDX # 1301 January 23, 2017]
OAØ, SOUTH SHETLAND ISLANDS (Update). Members of the Peruano Radio Club of Peru will be active OAØMP the Machu Picchu Antarctic Base on King George Island, South Shetland Islands (AN-010), between January 9th and March 31st. Activity will be mainly on 40/20 meters using SSB. QSL via OA4O.
-[OPDX # 1299 January 9, 2017]
YXØV AVES ISLAND. Pilot Station Steve, W4DTA, announced this past week that the YXØV DXpedition to Aves Island has not been cancelled, but put on hold by the Venezuelan Navy. This is due to multiple issues outside of their control (Weather, Politics, Protests) the Navy has asked to delay their departure. They are expected to meet with the Navy personnel in charge of the logistics of the transportation to the island by the middle of next week at the latest, and they hope to have a clear schedule for departure. The team is ready to go, and have worked hard to put together all the equipment, antennas, computers, cables, etc.....
-[OPDX # 1283 September 19, 2016]