Eastern Iowa DX Association
The Eastern Iowa DX Association is a DXing and contesting club headquartered in Cedar Rapids, Iowa. Detailed club information is on the "About EIDXA" page.


---
EIDXA News
(Updated December 6, 2016)
3YØZ Certificate of Appreciation
EIDXA has received a certificate of appreciation from the 3YØZ Bouvet Island DXpedition in recognition of our financial support of this forthcoming operation. Current plans are to be on the air in early 2018.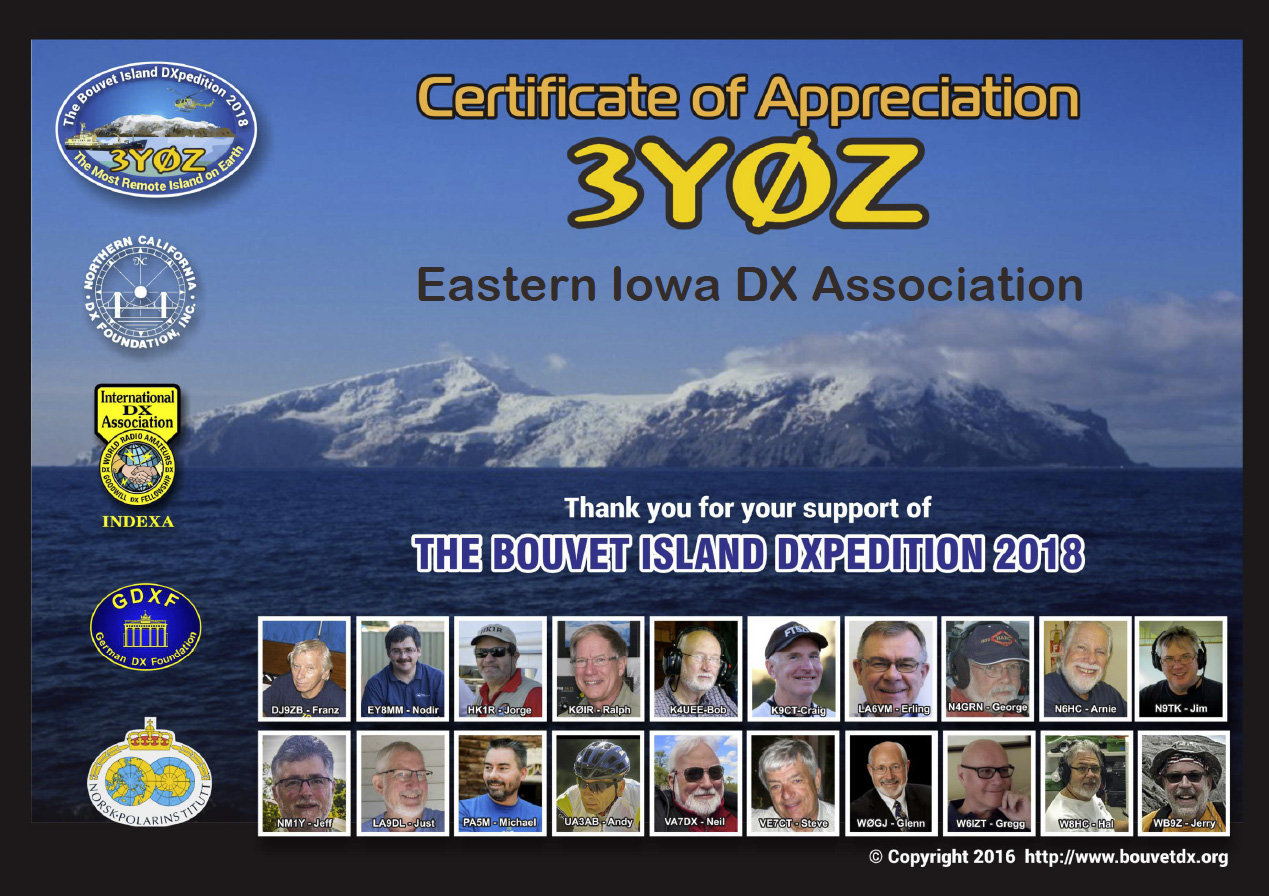 Please click on this image to see the full-size certificate. You may also wish to visit the Bouvet Island DXpedition web site. The EIDXA logo is on the "Sponsors" page.
Updated Ads on Buy-Sell-Trade:
WØMJN's ad has a new asking price. Check it out! This is one of the three new ads that have been posted on the Buy-Sell-Trade page! There are two prime transceivers with accessories for sale, and a pair of superb linear amplifiers plus accessories. Take a look!
October 2016 Eastern Iowa DXer
The October 2016 edition of the Eastern Iowa DXer has been posted! Jerry, WWØE, has produced another not-to-be-missed edition, loaded with lots of good info, a profile of a long-time member, and recent antenna work by another club member. The PDF is available for download on the "Newsletter" page.
EIDXA Meeting Minutes:
The minutes for the EIDXA meeting of October 14, 2016 are available on the "Meetings" page.
---
DX News (Updated November 20, 2016)
DX News items, unless otherwise noted, are courtesy of:
The Ohio/Penn DX Bulletin (OPDX)
Tedd Mirgliotta, KB8NW, Editor (kb8nw@barf80.nshore.org)
For subscription info, please see http://hamnet.org/mailman/listinfo/opdx

5H, TANZANIA (Reminder). Operators Sergei/R4WAA and Yan/RZ3FW will be active as 5H1WW from Unguja, Zanzibar Island (AF-032), between November 19-28th. Activity will be holiday style on 160-10 meters using CW, SSB, RTTY and the Digital modes. They also plan to be an entry in the CQWW DX CW Contest (November 26-27th) as a Multi-Single/Low-Power entry. QSL via RZ3FW or ClubLog's OQRS.
-[OPDX # 1292 November 21, 2016]

5N, NIGERIA. Tom, PA3TG, will once again be active as 5N/PA3TG from Lagos between November 15-24th. Activity will be on 20 meters CW/SSB and 30 meters CW mainly in the evening hours. QSL via his home callsign, direct or by the Bureau.
-[OPDX # 1291 November 14, 2016]

5R, MADAGASCAR. Eric, F6ICX, will once again be active as 5R8IC from Saint Marie Island (AF-090, WLOTA LH-0491) between November 6th and February 4th, 2017. Activity will be holiday style on 40-10 meters, mainly CW, but some SSB, RTTY, and PSK63, using a FT450 with 100 watts into various GPs or Inverted-Ls and a Hexbeam for 20-10 meters. There will be no online log during his activity. QSL via his home callsign (QRZ.com). Logs will be uploaded to ClubLog and LoTW.
-[OPDX # 1290 November 5, 2016]
5X, UGANDA (Reminder). Alan, G3XAQ, will once again be active as 5X1XA from Kampala between November 12-28th. Activity is usually on 80-10 meters CW only, and he plans to be in the CQWW DX CW Contest (November 26-27th). QSL via G3SWH, OQRS or LoTW.
-[OPDX # 1290 November 5, 2016]

5Z, KENYA. Nick, LZ4NM, will be active as 5Z4/LZ4NM from Nairobi through January 23rd, 2017. Activity will be on 40-10 meters using CW and SSB. QSL direct to: Amateur Radio Society of Kenya, Box 45681, Nairobi, 00100, Kenya.
-[OPDX # 1290 November 5, 2016]
6Y, JAMAICA (Update). Operators Tom/VE3CX, Harry/VA3EC, Dennis/VE3JAQ and Tony/VE3RZ will be active as 6Y3T from 6Y5WJ's QTH on Jamaica (NA-097) during the CQWW DX CW Contest (November 26-27th) as a Multi-2 entry. The team will be active outside of the contest between November 22-28th, as VE3CX/6Y5. All QSLs go via VE3CX.
-[OPDX # 1291 November 14, 2016]

8Q, MALDIVES (Reminder). A group of Polish operators will be active as 8Q7SP from Dhiffushi Island (AS-013) between November 20th and December 3rd. Operators mentioned are Jan/SP3CYY, Kaz/SP2FAX, Andy/SP3FZN, Mariusz/SP3SLA, Wlodek/SP6EQZ (Team Leader), Ryszard/SP6FXY, Kris/SP6JIU and Roman/SP9FOW. Activity will be on 160-10 meters using CW, SSB and RTTY.
-[OPDX # 1292 November 21, 2016]

9H, MALTA. Andrew, G8GNI, is now active as 9H3AP until December 9th. Activity will be holiday style mainly on 40 and 20 meters using the Digital modes. Equipment setup is an IC-706MKIIG running 100 watts into an inverted V. QSL via G8GNI, direct or by the QSL Bureau. He will upload his log to LoTW and ClubLog.
-[OPDX # 1292 November 21, 2016]

9N, NEPAL (Reminder). Yutaka, JA6GWX, will be active as 9N7NZ from Kathmandu between November 20-23rd. Activity will be on various HF bands using CW and SSB. QSL via his home callsign direct only.
-[OPDX # 1292 November 21, 2016]

9Q, DEM. REP. OF THE CONGO (Reminder). Christian, ISØBWM, will be active using the special event callsign 9QØHQ/3 in Kengé from the Democratic Republic of the Congo between November 20th and December 25th. He has received written permission from the national amateur radio club (ARAC). Activity will be on various HF bands using SSB. QSL via ISØBWM direct only (see QRZ.com). Log will be posted on ClubLog.
-[OPDX # 1292 November 21, 2016]

9Y4, TRINIDAD AND TOBAGO. Natan, K4NHW, is now active as 9Y4/K4NHW from Trinidad Island (SA-011) until December 14th. Activity will be on 40 and 20 meters using SSB. He may also activate Tobago Island (SA-009) if he has a chance. QSL via his home callsign, direct, by the Bureau or LoTW.
-[OPDX # 1292 November 21, 2016]

A5, BHUTAN. Nobuaki, JAØJHQ, will once again be active as A52NH from the Dochula Resort in Paro between November 24-27th. Activity will be on 160-6 meters using CW, SSB and RTTY. However, Nobuaki states, "Last time in March, I could not QRV on 80m and 40m, so this time, Low bands mainly... At the sunrise, I am trying 160m." He will also try to be in CQWW DX CW Contest (November 26-27th). He plans to use a TS-480HX w/200 watts on HF and 100 watts on 6m. Antennas are a 10m Micro-vertical (160/80/40/30m), Single-Delta-Loop (20/17/15/12/10m) and a LW for 6m. Log will be posted to ClubLog daily. QSL via JAØJHQ, direct, by the Bureau and LoTW (after his return). For more details and updates, see: http://pandasan.jimdo.com
-[OPDX # 1290 November 5, 2016]

COWS OVER THE WORLD (Update). Tom, KCØW, is now QRT as 4I7COW from the Philippines and his all-CW "Cows Over the World" DXpeditions will continue to Montenegro (4O) as 4O/KCØW starting November 22nd. He has posted (on QRZ.com) the following update, dated November 20th: "I'm currently planning DXpeditions to both Equatorial Guinea & Annobon after 4O/KCØW goes QRT. I will be making an exploratory trip to Equatorial Guinea in December to submit all licensing forms. These 'proposed' 50 - 60 day long DXpeditions to both 3C and 3CØ will hopefully be QRV after a second trip to Equatorial Guinea in January." There was mention that Tom may also be active from Albania after his 4O/KCØW operation. Remember to QSL direct via KCØW - No LoTW - No Bureau - DX 2 USDs - USA SASE.
-[OPDX # 1292 November 21, 2016]

D4, CAPE VERDE. Raul, EA2SS, will be active as D44TBC from Sal Island (AF-086) between November 19-28th. Activity will be holiday style on 20 and 30 meters using an FT-817 and half-wave dipoles. QSL via EA2SS, by the Bureau or eQSL.
-[OPDX # 1292 November 21, 2016]

E4, PALESTINE. Operators Chris/PA2CHR and Jos/PA3FYC will be active as E44CM from Jericho (WW Loc. KM71RU) between November 15-24th. Activity will be a 2m and 70cm EME operation. See their planned operation timetable on QRZ.com at:
http://www.qrz.com/db/E44CM
QSL via PA3FYC, direct or by the Bureau.
-[OPDX # 1290 November 5, 2016]

J6, ST. LUCIA (Correction/Update). Gary, K9AW, is once again active, but as J68GD (not J6/K9AW) from St. Lucia (NA-108) until November 27th. Activity over the past week has been on 40/30/20/17/12 meters using mainly CW with some SSB. Operations will include the CQWW DX CW Contest (November 26-27th) as a Single-Op/All-Band entry. QSL via K9AW, direct or LoTW.
-[OPDX # 1291 November 14, 2016]
FJ, ST. BARTHELEMY. By the time you read this, Adrian, KO8SCA, will be active as FJ/KO8SCA from St. Barthelemy Island (NA-146, DIFO FJ-001, WLOTA 0377) until November 26th. Activity will be holiday style on 160-10 meters using CW, SSB and the Digital modes. Equipment is a K3 transceiver and KPA500 amplifier running 500w into an BigIR vertical antenna and backup dipoles. There will be ClubLog uploads during the DXpedition. Paper QSL cards are available through ClubLog's OQRS. LoTW will be available after the DXpedition. For more details see FJ/KO8SCA under the QRZ.com page.
-[OPDX # 1292 November 21, 2016]

HS, THAILAND. Operators Fred/K3ZO/HSØZAR, Champ/E21EIC, Mike/E29BUQ, Ray/HS4RAY, Tony/G4UAV/HSØZDX, Svante/SM3DYU/HSØZDY, Stig/LA7JO/HSØZGD, Pornchai/HS2JFW, Art/HS4LKW, Zaki/9M2ZAK, Syaiful/9M2PUL, Dietmar/DL3DXX, Andy/G3AB, Ken/K4ZW and Ljubisa/YU7EF will be active as HSØZAR from Phimai, northeast of Bangkok, during the CQWW DX CW Contest (November 26-27th) as a Multi-2 entry. QSL via K3ZO. Look for some of the operators being active as HSØZGD before and after the contest. QSL via LA7JO, direct or by the HS Bureau.
-[OPDX # 1290 November 5, 2016]

P4, ARUBA. John, W2GD, will once again be active as P4ØW from Aruba (SA-036) between November 24-30th. Activity will include the CQWW DX CW Contest (November 26-27th)[as time permits]. Operations outside of the contests are usually CW on 160/80m and 30/17/12 meters as time permits. Watch 160m on the hour and 80m on the half hour. QSL via LoTW or direct to N2MM, Bureau cards are no longer accepted (since 2013). Logs will be loaded on LoTW upon his return to the USA.
-[OPDX # 1292 November 21, 2016]

TL, CENTRAL AFRICAN REPUBLIC (Reminder). Ken, LA7GIA, is now active as TL8AO from Bangui until November 22nd. Activity will be on 80-15 meters (possibly 10m as well, no 160m) using mainly CW (SSB on 20/15m). He states on his Web page the following:
* TL8AO is primarily a Single-Op DXpedition.
* The QSO target is 15,000 Qs -- in 10 full days
* His goal is to generate as many donations as possible where 100%
of donations received will be given to the DWOB (Doctors Without
Borders).
* First ALL donations are voluntary - there is no expectation
that you donate. See his Web for more details.
* He likes to keep the DXpedition and the Humanitarian fund-raising
as two separate issues. He tries to generate donations to the
humanitarian fund-raising only. BUT, he still encourages the DXers
to work him on as many band slots and modes as possible.
The complete log will be uploaded to LoTW the same day he returns from TL. The log will also be on ClubLog. OQRS to be activated, and QSL Manager is Charles, MØOXO. Look for more details/updates on his Web page at:
http://www.la7gia.com
-[OPDX # 1291 November 14, 2016]
TO2, ST. BARTHELEMY. Bill, K2HVN, who was active as PJ6/K2HVN from Saba Island last week, should now be active as TO2EE from St. Barthelemy Island (NA-146, DIFO FJ-001, WLOTA 0377) until November 25th. Activity will be on 40-10 meters using mainly CW, but some SSB. He will try to spot himself on DX Summit. See QRZ.com for QSL information. During this operation he will be running 100 watts into a Buddipole vertical.
-[OPDX # 1292 November 21, 2016]

V2, ANTIGUA (Update). Bud, AA3B, will be active as V26K from Antigua (NA-100) between November 22-28th. Activity will be mainly on CW with the potential for RTTY operations on November 28th. Bud will also be in the CQWW DX CW Contest (November 26-27th) as a Single-Op/All-Band/Low-Power entry. QSL via LoTW or via AA3B, direct or by the Bureau. An OQRS will be available via ClubLog.
-[OPDX # 1292 November 21, 2016]
V6, MICRONESIA (Reminder). By the time you read this Michael, DF8AN, will be active as V63AJ from Yap Island (OC-012) until November 20th. Activity will be on various HF bands using CW, RTTY and PSK. QSL via DF8AN, direct or by the Bureau. No eQSL or LoTW.
-[OPDX # 1290 November 5, 2016]
V6, MICRONESIA. Operators Tsutomu/JA1VND and Fujio/JA1SVP will be active as V63YY and V63FA, respectively, from Chuuk Islands (OC-011) between November 16-22nd. Activity will be on 160-10 meters using CW, RTTY and RTTY. QSL V63YY via JA1VND or LoTW. QSL V63FA via JA1SVP or LoTW.
-[OPDX # 1290 November 5, 2016]
V7, MARSHALL ISLANDS. Neil, WD8CRT, is once again returning to Kwajalein Atoll (OC-028), to be active as V73NS later in the month to get ready for the CQWW DX CW Contest (November 26-27th). No specific dates were provided, but he states that he will try to operate on 80m and 160m as much as possible throughout December. QSL via W3HNK or LoTW. No direct QSL. Direct QSL will not be forwarded or returned. eQSL NOT ACCEPTED. Visit his Web page at: http://www.qsl.net/v73ns
-[OPDX # 1291 November 14, 2016]

VK9N, NORFOLK ISLAND. Tim, NL8F, will oce again be active as VK9NF from Norfolk Island (OC-005) between November 22nd and December 3rd. Activity will be mainly on 17/12 meters using SSB, RTTY and PSK. His equipment is an IC-7300 with a small amp into a vertical. QSL via N7RO. ADDED NOTES: "The Daily DX" is reporting that Paula, NX1P, will be joining Tim on this operation and is trying to obtain the callsign VK9NX. The report states that Paula will be on CW and RTTY, while Tim will be on SSB and JT65 on all bands 160-10 meters. Paula will also be in the CQWW DX CW Contest. Paula's operation via NX1P direct, by the Bureau and LoTW.
-[OPDX # 1290 November 5, 2016]

VP2V, BRITISH VIRGIN ISLANDS (Update). Operators Peter/W1UU, Dennis/K2SX, Les/W2LK and Mike/WA6O will be active as VP2V/homecall from Josiah's Bay B&B (run by VP2VQ) near Road Town, Tortola, between November 22-29th. Their main activity will be the CQWW DX CW Contest (November 26-27th) using the callsign "VP2VI" in honor of Bob Dennison's, WØDX. Bob lived in VP2V-land and ran a resort/bar there for many years and operated as VP2VI. Bob was a former president of both ARRL and IARU, and also one of the early creators of the modern DXpedition. The group will be operating the contest as either Multi-Single or Multi/2. QSL VP2VI via W2LK. Outside of the contest, they will be using VP2V/homecall. QSLs for those QSOs should go via their home callsign. ADDED NOTE: Prior to their arrival in VP2V, they will all be staying in St. Thomas, U.S. Virgin Islands, between November 18-22nd, but there are no current plans to be active on the air from KP2. More details to follow.
-[OPDX # 1290 November 5, 2016]

VP2V, BRITISH VIRGIN ISLANDS. Kevin, K6TOP, will once again be active as VP2V/K6TOP from Tortola, British Virgin Islands (NA-023), between now and November 16th. Activity will be limited (family vacation) using an ICOM 706 MKII with 100 watts into a 40m vertical, 20/15/10 multi-band dipole. Operations will be CW almost exclusively. Operating hours are typically 0100-0300z and 1000-1200z due to family commitments. Kevin mentioned last time, "When the pileups get difficult, I listen to the edges, so please spread your calls out." QSLs via LoTW (preferred) or NR6M. NO Bureau cards. Log will be uploaded to LoTW and ClubLog upon return.
-[OPDX # 1290 November 5, 2016]
XW, LAOS. Bruce, 3W3B (HSØZCY/XU7ADF/XW1B/AA4XR), who lives in Da Nang, will once again be active as XW4XR from Vientiane between November 19-30th. Activity will be on 80-10 meters using CW, RTTY and JT65. QSL via E21EIC and LoTW.
-[OPDX # 1291 November 14, 2016]
XW, LAOS. Tony, KMØO, will be active as XWØYO from outside Vientiane between November 20-29th. Activity will be on 160-10 meters using CW and SSB. He plans to be in the CQWW DX CW Contest (November 26-27th). QSL only via LoTW.
-[OPDX # 1290 November 5, 2016]

XX9, MACAO. Operators Alberto/VR2XAN/IV3TAN (XX9TXN), Andrea/IV3SKB (XX9TKB), Stefano/IK2JUB (XX9TJU) and Luca/IK2PFL (XX9TPF) will be active as XX9TXN from Macao (AS-075) between November 21-29th. Activity will be on all HF bands with an emphasis on 30/17/12m and the Lower Bands using mainly CW. The group will be in the CQWW DX CW Contest (November 26-27th) as a Multi-2 entry signing as XX9TXN. QSL via VR2XAN direct. Outside of the contest you may hear the operators use their own XX9 callsign. QSL via the operators' instructions.
-[OPDX # 1292 November 21, 2016]

XZ, MYANMAR. Only a few more days to work Zorro/JH1AJT, Champ/E21EIC, Franz/DJ9ZB and Madison/W5MJ from Myanmar. They plan to be active until November 22nd. Activity will be on 80-10m bands CW, SSB and RTTY, with two stations, using a tri-band beam for 20/15/10m and another beam for 30/17/12m bands. Wire verticals will be used for other bands. QSL via JH1AJT: PO Box 8, Oiso, Naka-gun, KANAGAWA 259-0111, Japan. OQRS will be available at ClubLog after his return to Japan.
-[OPDX # 1292 November 21, 2016]


---
Older Items
BS7, SCARBOROUGH REEF. As we mentioned last year in May, some BY operators are planning to activate Scarborough Reef (BS7H) in 2016. Something interesting popped-up on the DX Engineering Web page (under Tech Info & News) on April 4th. Read the article "DX Engineering Supports the BS7 Scarborough Reef DXpedition" at:
DX Engineering.
-[OPDX # 1261 April 11, 2016]
P5, NORTH KOREA. Earlier in the week Dom, 3Z9DX, has received confirmation from the North Korean government to make a return trip to P5 and operate amateur radio with equipment for up to 5 days. The dates of activity are not yet known, but he will receive a very short notice. When Dom receives the short notice, he will have just a few days beforehand to gather his luggage and radio equipment for his stay in P5 land. Dom was told that this would be a single band SSB only operation (possibly on 20/15/10m). ADDED NOTE: Also, read the article on the ARRL Web page at:
http://tinyurl.com/jjsfj5q
-[OPDX # 1270 June 20, 2016]
YXØV AVES ISLAND (Update). Pilot Station Steve, W4DTA, announced this past week that the YXØV DXpedition to Aves Island has not been cancelled, but put on hold by the Venezuelan Navy. This is due to multiple issues outside of their control (Weather, Politics, Protests) the Navy has asked to delay their departure. They are expected to meet with the Navy personnel in charge of the logistics of the transportation to the island by the middle of next week at the latest, and they hope to have a clear schedule for departure. The team is ready to go, and have worked hard to put together all the equipment, antennas, computers, cables, etc.....
-[OPDX # 1283 September 19, 2016]