Eastern Iowa DX Association
The Eastern Iowa DX Association is a DXing and contesting club headquartered in Cedar Rapids, Iowa. Detailed club information is on the "About EIDXA" page.


---
EIDXA News
(Updated January 15, 2017)
EIDXA January 2017 Meeting
The next EIDXA meeting will be held on Friday, January 20, 2017 in room 1142 of Linn Hall at Kirkwood Community College. (This is our normal meeting location.) For details, please visit the "Meetings" page.
January 2017 Eastern Iowa DXer
The January 2017 edition of the Eastern Iowa DXer has been posted! Bob, WØGXA, has introduced a new, very attractive, interactive format for the newsletter. It is loaded with lots of good info. Get it on the "Newsletter" page!
3YØZ Certificate of Appreciation
EIDXA has received a certificate of appreciation from the 3YØZ Bouvet Island DXpedition in recognition of our financial support of this forthcoming operation. Current plans are to be on the air in early 2018.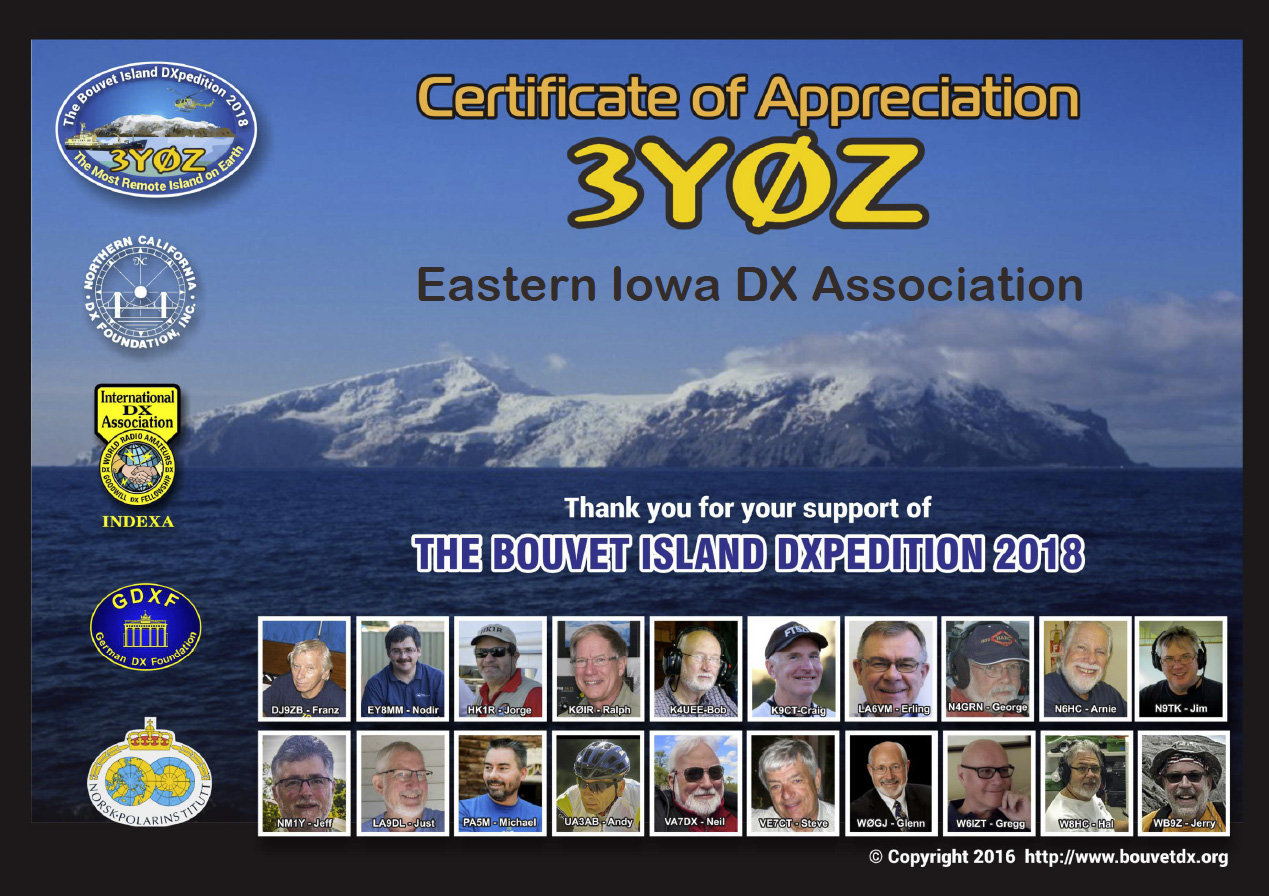 Please click on this image to see the full-size certificate. You may also wish to visit the Bouvet Island DXpedition web site. The EIDXA logo is on the "Sponsors" page.
---
DX News (Updated January 16, 2017)
DX News items, unless otherwise noted, are courtesy of:
The Ohio/Penn DX Bulletin (OPDX)
Tedd Mirgliotta, KB8NW, Editor (kb8nw@barf80.nshore.org)
For subscription info, please see http://hamnet.org/mailman/listinfo/opdx


3YØ/B, BOUVET. Reports of Dom, 3Z9DX, activating Bouvet Island continue to surface, but early this past week it was reported that he returned the donated money to donors via PayPal, saying: "I had to cancel project due missing operators willing to join the trip". Also, Dom posted on eHam.net on January 10th [edited]: "3YØ project didn't die, and is still valid. I need 3 more people (6 people team) ready and willing to go for up to 7 weeks. Who not ask million questions, who is just ready to go. My project no need helicopter, no need sherpas, no need cook, no need hostess, drink bars and a heater in the toilet. I went to Bouvet in 2001 with no radio and I know what I'm dealing with! My trip budget is 1/10 of 3YØZ budget and will be split by 6 operators. Trip will be made by Southern Oceans expedition boat.... I'm looking for 3 operators willing to join that trip. We have 2 weeks before boat departs from a the Cape Town." To follow the discussion on eHam.net, go to:
http://www.eham.net/ehamforum/smf/index.php/topic,112520.15.html
Another thing to watch is: http://k38dom0.wixsite.com/rebeldxgroup. On this Web page, current operators listed (Rebel DX Group) for this operation are Dom/3Z9DX and Les/SP3DOI. It also states, "We are looking for 3 more operators to join the trip for up to 7 weeks", and the callsign 3YØI (not 3YØG as first announced) will be used. The 3YØI callsign has been recently added to the QRZ.com database. DX-World reports, "It has been granted to Dom, 3Z9DX, who informs he also has landing permission."
-[OPDX # 1300 January 16, 2017]
3YØ/B, BOUVET. A Message From the 3YØZ DXpedition Team
Our Commitment to You
A DXpedition to Bouvet is not to be taken lightly. Bouvet is a serious and dangerous place that demands attention to safety, serious planning, physical and mental endurance, time to allow for storms and rough seas and a team with the right balance of size, experience, talent, emotional stability and sense of purpose. We feel we have met these criteria, but when we arrive at Bouvet, we also need to attend to our obligations to you, our financial supporters and DX audience. How we meet those obligations and expectations will define us as a team.
It is our belief that, given the rarity of this entity, we must pull out all the stops. We must utilize maximum legal power, the best antennas, world class transceivers, propagation studies, the best location on the island, a safe vessel and crew, highly qualified helicopter pilots and the complementary resources of our team. We will need near real-time information flowing to us through our extensive pilot system, so that we can maximize our primary purpose — providing QSOs.
We have a conscience. We will not do this just for the sake of doing it and end up using a compromised location, less than 24/7 coverage of all open bands, limited power, inefficient antennas and insufficient time at the island. We want to do this right, and give everyone the best possible chance of making the QSOs they desire, be they on 160, the WARC bands, SSB, CW, RTTY or 6 and 2 meter EME.
Rest assured that we will do our very best for you! No shortcuts or compromises!
-[The 3YØZ Bouvet Island DXpedition Team, January 15, 2017]

4S, SRI LANKA. Peter, DCØKK, is once again active as 4S7KKG from Moragalla, Sri Lanka (AS-003, WLOTA 0762). He has been active since November 1st, and will be there until April 1st. Activity will be mainly on CW and the Digital modes with operation on 20-10 meters. QSL via DCØKK, by the Bureau (preferred) or direct (see QRZ.com). LoTW on request. All QSLs for all QSOs will be sent via the QSL Bureau.
-[OPDX # 1299 January 9, 2017]

5R, MADAGASCAR. Eric, F6ICX, will once again be active as 5R8IC from Saint Marie Island (AF-090, WLOTA LH-0491) between November 6th and February 4th, 2017. Activity will be holiday style on 40-10 meters, mainly CW, but some SSB, RTTY, and PSK63, using a FT450 with 100 watts into various GPs or Inverted-Ls and a Hexbeam for 20-10 meters. There will be no online log during his activity. QSL via his home callsign (QRZ.com). Logs will be uploaded to ClubLog and LoTW.
-[OPDX # 1290 November 5, 2016]
8Q, MALDIVES. Bob, GM4DLG, is now active as 8Q7RB from Maldive Islands (AS-013). The length of his stay is unknown at this time. Activity so far has beeen on 40/20 meters SSB. QSL via his home callsign.
-[OPDX # 1300 January 16, 2017]

5Z4, KENYA. Nick, LZ4NM, will be active as 5Z4/LZ4NM from Nairobi through January 23rd, 2017. Activity will be on 40-10 meters using CW and SSB. QSL direct to: Amateur Radio Society of Kenya, Box 45681, Nairobi, 00100, Kenya.
-[OPDX # 1290 November 5, 2016]
E5, NORTH AND SOUTH COOK ISLANDS (Update). Bengt-Erik/K7ADD, who will be active as E51AMF from Manihiki Island (OC-014) between January 11th and February 6th, announced that he will also be active as E51ADD from Rarotonga (OC-13) in the South Cook Islands between January 5-9th, and again between February 8-18th. As with the North Cooks, he will also focus on EU, ATNO, and rates. Activity will be on 80-10 meters (160m possible, not guaranteed) on SSB, and RTTY (other high-rate Digital modes possible) using 1500w into vertical and wire antennas near salt water. There will be no operations on CW. This DXpedition commemorates the launch of a new non-profit supporting charitable works by DXpeditions. The Amateur Foundation's Web site is located at:
http://amateurfoundation.org
QSL both callsigns via LoTW or by ClubLog's OQRS (the highly recommended methods). They will also eQSL upon their return home. QSL both callsigns via K7ADD for direct mail. Stay up-to-date on their preparations and other news at:
http://e51amf.amateurfoundation.org
-[OPDX # 1298 January 2, 2017]

E5, SOUTH COOK ISLANDS. Dick, AD7AF, will once again be active as E51WWA from Kii Kii Motel and Suites on Rarotonga Island (OC-013) between January 9-26th. Activity will be holiday style on 80-10 meters using CW and SSB. The rig is a K3 with vertical antennas and inverted L's on 40 and 80 next to the salt water. QSL via his home callsign, direct or LoTW. Dick states, "Internet is expensive and can be spotty on Rarotonga, so the log may not get loaded onto LoTW until my return to the U.S.A. I will load the log onto ClubLog whenever I have time and good internet is available."
-[OPDX # 1299 January 9, 2017]

EA8, CANARY ISLANDS. Vlad, UA4WHX, continues his African tour and is now active as EA8/UA4WHX from the Canary Islands. As this was being written, activity has been on 80/40/30 meters using CW, SSB and RTTY. As always, the length of his stay is not known. QSL via his home callsign.
-[OPDX # 1298 January 2, 2017]
H4Ø, TEMOTU PROVINCE. Darren, VK4FEDX, is now active as H4ØDA from Nendo Island (OC-100) in the Temotu Province. The length of his stay is currently unknown. Activity will be holiday style on 80/40/15/10 meters. QSL via VK4FEDX direct.
-[OPDX # 1299 January 9, 2017]
JT, MONGOLIA. Khos, JT1CD, is now active as JT1CD/3 from Umnudelger Soum
Village, 220 km east of Ulaanbaatar, until January 21st. QSL via his home
callsign, direct or LoTW.
-[OPDX # 1300 January 16, 2017]

JW, SVALBARD. Erik, LA2US, will once again be active as JW2US from Hopen Island (IOTA EU-063) for the next 6 months. He will operate on HF Bands mostly CW. QSL via OQRS ClubLog, LOTW, eQSL.
-[OPDX # 1297 December 26, 2016]
KC4, ANTARCTICA. Mike, RW1AI, a member of the Russian Speaking Radio Club (N2TA), is now active as KC4/N2TA from the Novolazarevskaya Antarctic Station until the end of February. Activity will be on 80-20 meters using CW and JT65. QSL only to: Russian Speaking Radio Club, P.O. Box 715, Brooklyn, NY 11230 USA.
-[OPDX # 1299 January 9, 2017]
LU4/Z, SOUTH SHETLAND ISLANDS. Juan Manuel Pereda, LU4CJM/LU1ZI, is now active as LU4CJM/Z from Gurruchaga Camp (WAP ARG-NEW) which is located at Harmony Cove, Nelson Island. Activity has been on mostly 40 meters CW. He seems to show up starting after 0000z and as late as 0500z (Check the cluster spots). It is not known how long he is going to stay at Gurruchaga, but this is really a rare one to look for! QSL via LU4AA, by the Bureau or direct. Read more about Gurruchaga at the WAP Web site:
http://www.waponline.it/NewsInformation/tabid/225/Default.aspx
-[OPDX # 1300 January 16, 2017]
NH2, GUAM. Koji, JL3RDC, will once again be active as NHØDX/NH2 from Guam between January 20-22nd. Activity will be on various HF bands using SSB only. QSL via JL3RDC direct.
-[OPDX # 1299 January 9, 2017]

OAØ, SOUTH SHETLAND ISLANDS (Update). Members of the Peruano Radio Club of Peru will be active OAØMP the Machu Picchu Antarctic Base on King George Island, South Shetland Islands (AN-010), between January 9th and March 31st. Activity will be mainly on 40/20 meters using SSB. QSL via OA4O.
-[OPDX # 1299 January 9, 2017]
S2, BANGLADESH. Yuki, JH1NBN, will once again be active as S21ZBA from Dakha between January 15-19th. He will be there on business. Activity will be during his spare time on various HF bands, but primarily on 80 and 40 meters using SSB. QSL via his home callsign.
-[OPDX # 1300 January 16, 2017]

T8, PALAU. Ichy, JH7IPR, is once again active as T88UW from the VIP Guest Hotel (Free Radio Room) on Koror Island (OC-009) until January 18th. Activity will be on 160-6 meters, but will focus on the lower bands. He plans to return in middle April and concentrate on 6m and the higher bands. QSL via his home callsign, by the Bureau or direct. He will upload his log to LoTW and ClubLog.
-[OPDX # 1300 January 16, 2017]

TG, GUATEMALA. Dieter "Dick", DJ2EH, will be active as TG9/DJ2EH from Guatemala between January 10-24th. Activity will be on various HF bands using CW and RTTY. There will be a focus on 160/80 meters. QSL via his home callsign.
-[OPDX # 1299 January 9, 2017]
V3, BELIZE. Paul, VE3AXT, is once again active as V31AX in the northern part of the country, Consejo Shores, Corozal, until March 7th. His rig is an IC-7000 with 100 watts into a G5RV dipole. QSL via MØURX and OQRS. Bureau QSLs are via OQRS ONLY at <http://m0urx.com/oqrs>. Please do not send YOUR QSL card via the Bureau. For more info and pictures, see his V31AX QRZ.com Web page.
-[OPDX # 1300 January 16, 2017]

VP2V, BRITISH VIRGIN ISLANDS. "DX-World" reports that operators Andy/W4KDN, Charlie/W4KZK and John/WA5FAC will be active as VP2VAW from Tortolla, British Virgin Islands between January 14-21st. Their activity coincides with the North American QSO CW Party (January 14-15th) and the North American QSO SSB Party (January 21-22nd). Activity will be holiday style outside of the contests with three stations on the air being all band capable (160-10 meters; depending on the propagation). They however plan to concentrate on 30 meters CW, 40 meters SSB and 160/75 meters Digital (mostly JT-65 and PSK-31). They also plan to activate 60 meters on the new world-wide allocation at primarily a dial frequency 5357 KHz. QSL will be preferred direct to W4KZK: Charlies Lamb, PO Box 211, Bent Mountain, VA 24059. Only two members use digital logging, but you can also try requesting confirmations by eQSL or LoTW.
-[OPDX # 1299 January 9, 2017]
VP8, FALKLAND ISLANDS. Operators Dave/G1OCN and Carol/2E1DQZ will once again be active as VP8CLE and VP8DKW, respectively, between January 14th and February 4th. Activity will be on 160-10 meters using "keyboard CW", SSB, RTTY and PSK. They plan to spend a week on Saunders Island (operating portable for SOTA VP8/WF-017, Rookery Mt., and other summits, particularly 'The Neck'), then another week on Bleaker Island (VPFF 8107), and then finally from Stanley. QSL only direct to G1OCN. Log will be on ClubLog.
-[OPDX # 1300 January 16, 2017]

XP5, GREENLAND. Bjorn, OZ5BD, will soon be active as XP5T from Greenland (NA-018). The length of his stay is unknown at this time. Activity will be on various HF Bands. QSL via OZ0J or LoTW.
-[OPDX # 1299 January 9, 2017]
ZD8, ASCENSION ISLAND. Steve, WB4GHY, is currently on Ascension Island on a work detail. Look for him to possibly be active on various days as ZD8SC until January 22nd. Activity will be on 80-10 meters on SSB only using an IC-7000 to a directional antenna. QSL via WB4GHY.
-[OPDX # 1300 January 16, 2017]


---
Older Items
YXØV AVES ISLAND. Pilot Station Steve, W4DTA, announced this past week that the YXØV DXpedition to Aves Island has not been cancelled, but put on hold by the Venezuelan Navy. This is due to multiple issues outside of their control (Weather, Politics, Protests) the Navy has asked to delay their departure. They are expected to meet with the Navy personnel in charge of the logistics of the transportation to the island by the middle of next week at the latest, and they hope to have a clear schedule for departure. The team is ready to go, and have worked hard to put together all the equipment, antennas, computers, cables, etc.....
-[OPDX # 1283 September 19, 2016]