Eastern Iowa DX Association
Welcome to the Eastern Iowa DX Association web site! Our club is open to any amateur radio operator who is interested in DXing and/or contesting. You are cordially invited to attend club meetings and get aquainted. We have many friendly, outgoing members with varied areas of expertise, who would be delighted to meet you and offer their help as needed. (Detailed club information is on the "About EIDXA" page.)


---
EIDXA News
(Updated February 17, 2017)
EIDXA April 2017 Meeting
The next EIDXA meeting will be held on Friday, April 21. The new meeting location is at Mercy Medical Center in Cedar Rapids, in the Hallagen Education Center. Stair-free access is available at the 10th Street main entrance, with free parking in the covered parking port just a few steps from the entrance. Then it is just a few steps down the hall to the conference room. Signs on the walls provide directions. More details will be provided on the "Meetings" page as we get closer to the meeting date.
New EIDXA Email Reflector
The new reflector is now on line. To post to the new reflector, email your message for the group to: eastern-iowa-dx-association@googlegroups.com
You may visit the group homepage here:
https://groups.google.com/group/eastern-iowa-dx-association
The group homepage has a complete archive of all messages exchanged via the group. This new reflector allows us to forward photos or other files to the group. Nice!
Minutes of the January 20, 2017 Meeting
are now posted on the "Meetings" page.

Constitution and Bylaws (as amended at the January 20, 2017 meeting)
are now posted on the "Constitution & Bylaws" page.
January 2017 Eastern Iowa DXer
The January 2017 edition of the Eastern Iowa DXer is available on the "Newsletter" page. Bob, WØGXA, has introduced a new, very attractive, interactive format for the newsletter. It is loaded with lots of good info. Be sure you don't miss it!
3YØZ Certificate of Appreciation
EIDXA has received a certificate of appreciation from the 3YØZ Bouvet Island DXpedition in recognition of our financial support of this forthcoming operation. Current plans are to be on the air in early 2018.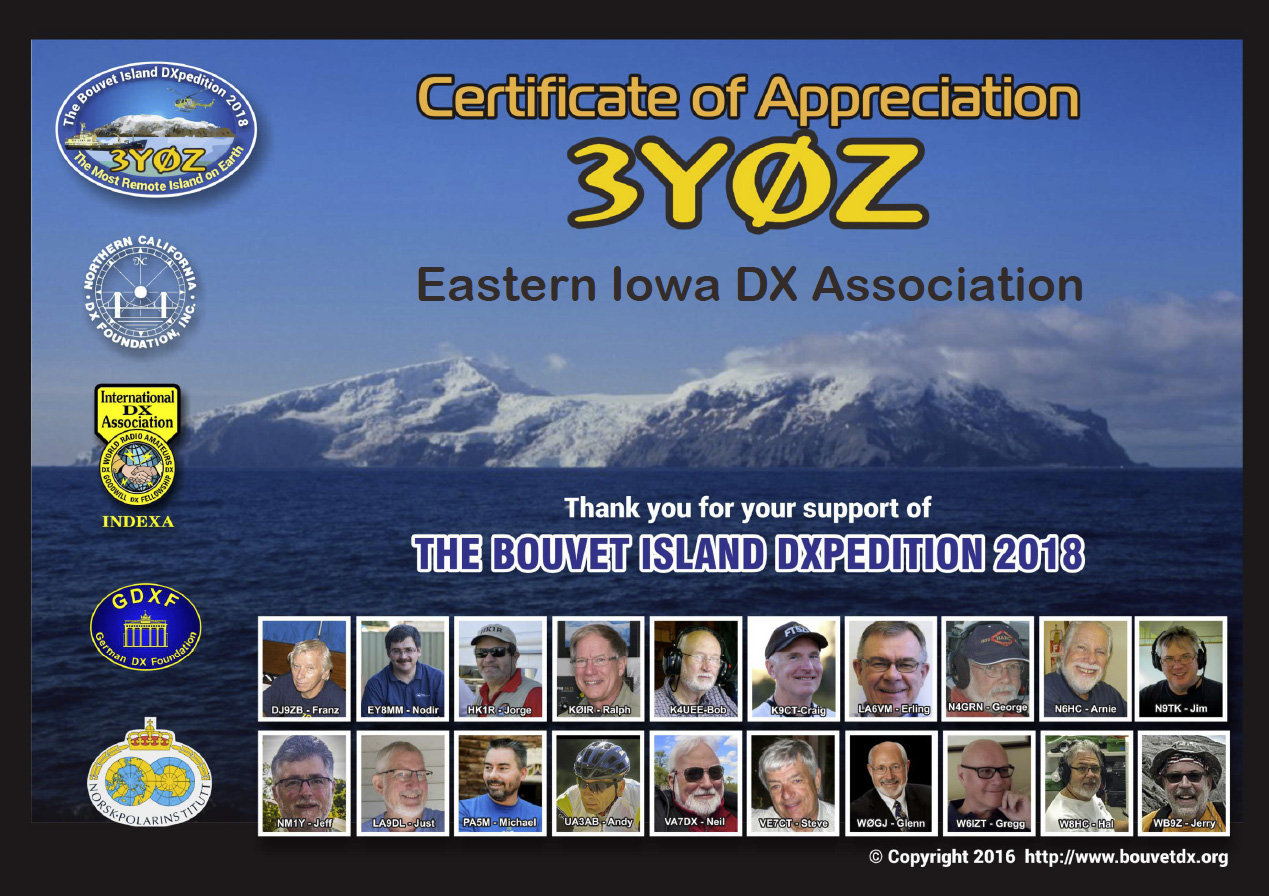 Please click on this image to see the full-size certificate. You may also wish to visit the Bouvet Island DXpedition web site. The EIDXA logo is on the "Sponsors" page.
---
DX News (Updated February 12, 2017)
DX News items, unless otherwise noted, are courtesy of:
The Ohio/Penn DX Bulletin (OPDX)
Tedd Mirgliotta, KB8NW, Editor (kb8nw@barf80.nshore.org)
For subscription info, please see http://hamnet.org/mailman/listinfo/opdx


3B8, MAURITIUS. Paul, G8AFC, will be active as 3B8HE from Mauritius Island (AF-049) between February 1st and April 5th. Activity will be on 40-6 meters. QSL via his home callsign.
-[OPDX # 1302 January 30, 2017]
3B8, MAURITIUS. Jean-Paul, HB9ARY, will once again be active as 3B8/HB9ARY from Mauritius until February 15th. Activity will be on all HF bands, 80-10 meters, using mainly SSB, but some CW. QSL via NI5DX, LoTW or eQSL.
-[OPDX # 1303 February 6, 2017]
3V, TUNISIA. SWL Ashraf "Ash", 3V4-002 (KF5EYY), will once again be active as 3V8SS from the "Radio Club Station of Tunisian Scouts" in Sousse, during the ARRL International DX CW Contest (February 18-19th) as a Single-Op/All- Band/Low-Power entry. QSL via LoTW or to LX1NO. Read about Ashraf on the
following Web page at: http://www.kf5eyy.info
-[OPDX # 1304 February 13, 2017]

3X, GUINEA (IOTA Op). Operators Alain/F5OZC and Sebastien/F8DQZ are now active as 3XY3D from Kassa Island in the Los Islands Group (Iles de Los) [AF-051] until February 26th. Activity will be on 40-10 meters using mainly CW with some SSB. QSL via F5OZC.
-[OPDX # 1304 February 13, 2017]
5TØ, MAURITANIA. Jean, ON8RA/5TØJL, will be active with the special call- sign 5TØITU from Mauritania until December 31, 2017. The special callsign will be tentatively activated during ITU events that are listed on his QRZ.com page. Activity will be on 80-10 meters using CW. Suggested frequencies are 3504, 7004, 10104, 14004, 18069, 21004, 24893 and 28004 kHz. QSL via ON8RA.
-[OPDX # 1301 January 23, 2017]
6Y, JAMAICA (Reminder). Yuri, VE3DZ, is once again active as 6Y2T from Jamaica (NA-097) between February 14-21st. Activity will include the ARRL International DX CW Contest (February 18-19th) as a Single-Op/All-Band/ High-Power entry. Operations outside of the contest will be on 160-10 meters, including the 30/17/12 meter bands and using CW, SSB and RTTY. QSL via VE3DZ.
-[OPDX # 1304 February 13, 2017]
7P8, LESOTHO. Pista, HA5AO, will once again return to Lesotho for humani- tarian purposes between February 10-26th. He will be signing 7P8EUDXF and be active during his free time on 40-10 meters operating mostly CW. Pista is there overseeing the project at a local orphanage that he started during his October 2016 visit and will deliver donations received since then. Logsearch and OQRS is available on <ha5ao.com>. Please use OQRS for all confirmation requests, do not send cards via the Bureau. For the October, 2016 operation - all OQRS direct and mail direct QSL requests were posted from Budapest on January 23rd, 2017, bureau cards were forwarded to the HA Bureau. LoTW was uploaded on December 28th, 2016. Money donated to 7P8EUDXF will be used only for humanitarian purposes. The results of Pista's 2010 activity can be seen at: http://tinyurl.com/zu5q323. At the completion of this next visit the photo gallery on http://www.ha5ao.com will be updated.
-[OPDX # 1303 February 6, 2017]

7V7, ALGERIA. Vlad, UA4WHX, continues his African tour and is now active using a special callsign, 7V7V, from Dira, Algeria, on the way to Bou Saada. As this was being written, activity has been on 80 meters CW, but also look for him to possibly be on 40/30 meters using CW, SSB and RTTY. As always, the length of his stay is not known. QSL via his home callsign.
-[OPDX # 1301 January 23, 2017]
8P, BARBADOS. Tom, W2SC, will once again be active as 8P5A during the ARRL International DX CW Contest (February 18-19th) as Single-Op/All- Band/High-Power entry. QSL via LoTW or direct to NN1N.
-[OPDX # 1304 February 13, 2017]
8P, BARBADOS. Charles, 8P6ET, will be active as 8P1W during the following, ARRL International DX CW Contest (February 18-19th), ARRL International DX SSB Contest (March 4-5th) and the CQWW WPX SSB Contest (March 25-26th) as a Single-Op/All-Band/Low-Power entry. QSL via KU9C.
-[OPDX # 1300 January 16, 2017]
AFRICAN TOUR (Reminder). Peter, HA3AUI, will once again be active from two West African countries between (approx.!!!) January 20th and March 5th. His plans are to be active as 6W2SC from Cabrousse, Senegal, and as J5UAP from Cabroxo, Guinea-Bissau. Specific dates were not provided. Watch his Web page for possible updates at:
http://cqafrica.net/en/welcome/index.html
He does state that from Senegal (6W) he will have a K3, Spiderbeam, 100 or 500W, and will operate on 20-10 meters CW (other bands/modes on request). Peter may activate some IOTAs and/or WFFs as 6w2sc/p. From Guinea-Bissau (J5), he will have a K3, 100w, verticals, and operate 20-10 meters CW (other modes on request). QSL via LoTW or direct via his home callsign HA3AUI.
-[OPDX # 1301 January 23, 2017]
A5, BHUTAN. Look for A5A to be activated again between February 10-17th. Zorro, JH1AJT, will travel to Bhutan with JC, E2ØNKB, and Champ, E21EIC. The main purpose of this trip is to support the launch of Paralympic Committee in Bhutan with Bhutan Olympic Committee (BOC). Activity will be on 160-10 meters using CW, SSB and RTTY. QSL via JH1AJT: PO Box 8, Oiso, Naka-gun, KANAGAWA 259-0111, Japan. The OQRS will be available at ClubLog after his return to Japan.
-[OPDX # 1303 February 6, 2017]
C6, BAHAMAS (Reminder). Operators Tim/N4UM (C6ARU), Mike/K4RUM (C6AUM) and Bob/N4BP (C6AKQ) are once again active from Abaco Island (NA-080) until February 21st. Activity will be on 160-6 meters using mainly CW with some RTTY and other Digital modes (possibly SSB). Each operator will be in the ARRL International DX CW Contest as Single-Band entry. C6AKQ will be on 80 meters, C6AUM will be on 40 meters and C6ARU will be on 20 meters. QSL C6ARU via N4UM direct. QSL C6AUM via K4RUM direct. QSL C6AKQ via N4BP direct.
-[OPDX # 1304 February 13, 2017]
D4, CAPE VERDE. Operator Girts, YL2KL, will once again active as D4C from Sao Vicente Island (AF-086) between February 13-20th. Activity will be during the ARRL DX CW Contest (February 18-19th) as a Single-Op/All-Band/ High-Power entry. QSL D4C direct to HB9DUR or by the Bureau to IK2NCJ. For the latest information, check the D4C Web page at: http://www.d4c.cc Also their FaceBook page at: https://www.facebook.com/D4C.STATION
ADDED NOTE: Look for Girts to sign D4Z before the contest on 30/17/12 meter bands. QSL via is the same as above.
-[OPDX # 1303 February 6, 2017]
E5, SOUTH COOK ISLANDS. Milan, OK1DWC, who is still active as E51DWC from the Rarotonga Islands (OC-013, WAZ-32), will be there at least until sometime in March. Milan is active every day on 160-10 meters using CW, SSB and RTTY. He was active during last weekend's CQWW 160m CW Contest and is expected to be in the ARRL International DX CW Contest (February 18-19th) as a Single-Op/All-Band entry, the CQWW 160m SSB Contest (February 24-26th) as a Single-Op/High-Power entry, the ARRL International DX SSB Contest (March 4-5th) and possibly (but not sure yet) CQWW WPX DX SSB Contest (March 25-26th). QSL via his home callsign. Confirmation is not a problem across all OQRS's and the information can be found on:
http://QRZ.com/lookup/E51DWC
http://QRZ.COM/lookup/OK1DWC
http://www.hamqth.com/E51DWC
-[OPDX # 1302 January 30, 2017]
FG/TO3, GUADELOUPE. Operators Gildas/F6HMQ and Michel/F6GWV will once again be active as FG/F6HMQ and FG/F6GWV from Guadeloupe (NA-102) between February 13th and March 13th. Activity will be on various HF bands, and also participate in the ARRL International DX SSB Contest (March 4-5th) as TO3Z. QSL via F6HMQ.
-[OPDX # 1300 January 16, 2017]
FY/TO1, FRENCH GUIANA. Herve, F5HRY, will once again be active as TO1A during the ARRL International DX CW Contest (February 18-19th) as a Single-Op/ Single-Band (15m) entry. QSL via his home callsign or LoTW.
-[OPDX # 1304 February 13, 2017]
FY, FRENCH GUIANA. Gerard, F6CKD, is again and now active as FY/F6CKD from French Guiana until March 28th. Activity is on 40-15 meters using SSB. QSL via his home callsign.
-[OPDX # 1304 February 13, 2017]

HKØ/5JØ/5KØ, SAN ANDRES (Update). Will, AA4NC, informs OPDX that he FINALLY received his callsign from the Colombian authorities after 5 months. He will be active as 5KØN on San Andres between February 12th and March 8th. He will be using low power with wire antennas on CW, RTTY and SSB. Will is one of the LW9EOC team for the upcoming ARRL International DX CW and SSB Contests, signing 5JØNA ad as a Multi-Single entry (see OPDX.1295/1299/ 1302). Will states that Ron, AA4VK, will be joining him for the first two weeks and operating holiday style as AA4VK/HKØ on SSB. Will may also be active as 5KØN/HK5 on a trip to visit his friend OZ1AA who now lives in Cali, Colombia. Look for updated info on the QRZ.com web page. QSL 5KØN direct via AA4NC and LoTW.
-[OPDX # 1303 February 6, 2017]

HP, PANAMA. Mek, SQ3RX, will be active as HP/SQ3RX from Volcan, Panama between February 12-15th. Activity will be on various HF bands using mainly CW. QSL via his home callsign, direct, by the Bureau or ClubLog's OQRS.
-[OPDX # 1302 January 30, 2017]
HR, HONDURAS. By the time you read this, Gerard, F2JD, is once again active as HR5/F2JD from Honduras until April 24th. Activity will be on various HF bands using CW, SSB and RTTY. QSL via F6AJA, direct or via the French REF Bureau. The log will be posted on: http://lesnouvellesdx.fr/voirlogs.php
-[OPDX # 1302 January 30, 2017]
J6, ST. LUCIA. Darren, VA3EGG, is now active as J68DH from Saint Lucia Island (NA-108) until February 28th. Activity will be on 40-10 meters using SSB only with Yaesu FT-897D w/100 watts and wire antennas. QSL via his home callsign.
-[OPDX # 1303 February 6, 2017]
LU4/Z, SOUTH SHETLAND ISLANDS (Update). Juan, LU4CJM/LU1ZI, continues to be active as LU4CJM/Z from Gurruchaga Camp (WAP ARG-28) which is located at Harmony Cove, Nelson Island, until February 22nd. Activity has been on mostly 40 meters CW, but some QRNs on 80m. He seems to show up starting after 0000z and as late as 0500z (Check the cluster spots). QSL via LU4AA, by the Bureau or direct. Read more about Gurruchaga at the WAP Web site:
http://www.waponline.it/NewsInformation/tabid/225/Default.aspx
-[OPDX # 1304 February 13, 2017]

P4, ARUBA (Update). Operators Dan/K1TO, Ron/KK9K, Scott/NE9U and Mike/W9RE will be active as P4/homecall from Aruba between February 9-23rd. The group plans to be active during the ARRL International DX CW Contest (February 18-19th) as a Multi-2 entry using a special P4ØRF. QSL via LoTW.
-[OPDX # 1304 February 13, 2017]

P4, ARUBA. John, W2GD, will be active as P4ØW from Aruba (SA-036) during the ARRL DX CW Contest (February 18-19th) as a Single-Op/All-Band entry. He will be there between February 12-20th. Operations outside of the contest are usually on 160/80m and 30/17/12 meters as time permits. Watch 160m on the hour and 80m on the half hour. QSL via LoTW or direct to N2MM, Bureau cards are no longer accepted. Logs will be loaded on LoTW upon his return to the USA.
-[OPDX # 1304 February 13, 2017]

P4, ARUBA. Operators Zoli/HA1AG, John/W6LD and Ed/WØYK will be active as P4ØL from the Pos Chiquito contest station on Aruba during the ARRL International DX CW Contest (February 18-19th) as a Multi-Single entry. QSL via WA3FRP. The P4ØL log will be uploaded to ClubLog and LoTW. For more details about the P4ØL station, see: http://www.arubaqth.com
-[OPDX # 1304 February 13, 2017]

PJ2, CURACAO. Gerhard, OE3GEA, will be active as PJ2/OE3GEA from Curacao (SA-099) between February 18th and March 1st. Activity will be on 40-10 meters using CW only. QSL via his home callsign.
-[OPDX # 1304 February 13, 2017]

PJ7, ST. MAARTEN. Doug, WD8Z, will be active as PJ7/WD8Z from Sint Maarten (NA-005) between February 13-23rd. Activity will be on 40-10 meters during most mornings (local time) on SSB using a K3-100 into a Buddipole and dipoles. QSL via his home callsign.
-[OPDX # 1304 February 13, 2017]
T8, PALAU. Noboru, JH1OLB, will be active as T88DT from the VIP Guest Hotel (Free Radio Room) on Koror Island (OC-009) between February 17-21st. Activity will be on 160-6 meters (depending on condition) using CW, SSB, RTTY, PSK31, SSTV and JT65A. QSL via his home callsign, direct or by the Bureau. No eQSL or LoTW. For more details about the VIP Guest Hotel (Free Radio Room), see:
http://www.palau-radio.com/index.php?page=rr2014
-[OPDX # 1300 January 16, 2017]

V3, BELIZE. Victor, WBØTEV, will be active as V31VP from Blackman Eddy Village (west of Belmopan) between February 8-14th. Activity will be on various HF bands including an entry in the CQWW WPX RTTY Contest (February 11-12th). He will use 100 watts and wire antennas. QSL via his home callsign, direct or by the Bureau.
-[OPDX # 1301 January 23, 2017]
V3, BELIZE. Art, NN7A, will once again be active as V31JZ/p from South Water Caye, Belize (NA-180) between February 15-21st. This will be a one-person operation using a 100 watt transceiver and wire antennas. Operation will be mostly CW on 160-10 meters including 30/17/12m bands. His activity will also include the ARRL International DX CW Contest (February 18-19th) as a Single-Op/All-Band/Low-Power entry. No online logs. QSL direct via NN7A (Art Phillips, P.O. Box 73, Eckert, CO 81418 USA), or via the ARRL Bureau. Bureau cards sent to Belize cannot be answered (there is no active V3 bureau).
-[OPDX # 1301 January 23, 2017]
V4, ST. KITTS AND NEVIS. Felipe, NP4Z, will be active as V43Z during the ARRL International DX CW Contest (February 18-19th) as a Single-Op/All- Band entry. QSL via <http://ebabel.net/>.
-[OPDX # 1304 February 13, 2017]
V4, ST. KITTS AND NEVIS. Operators Bryan/N8WD and Tom/K4ZGB will be active as V4/N8WD and V4/K4ZGB from (the villa that V47JA calls home) Calypso Bay Resorts between February 14-20th. Bryan states that they will be with the "Buddies in the Caribbean Veterans DXpedition to St. Kitts and Nevis", and will be using a Elecraft KX3 with the Elecraft KXPA 100 amp with various Buddipole antenna setups. QSL via their home callsigns. Bryan will also upload his log to LoTW and EQSL.
-[OPDX # 1300 January 16, 2017]

V5, NAMIBIA (Update). Operators Georg/DD8ZX and Klaus/DJ9KM will once again be active as V5/DD8ZX and V5/DJ9KM from Omaruru, Otjikoko Guest farm, between February 6-18th. Activity will be holiday style with a focus on 160-10 meters and if possible on 6m. Operating modes are SSB, RTTY and PSK. They will participate in the CQWW WPX RTTY Contest (February 13-14th) as V55V (QSL via DJ8VC). QSL via V5/DD8ZX via DD8ZX, direct or by the Bureau. QSL V5/DJ9KM via DJ9KM, direct, by the Bureau or LoTW.
-[OPDX # 1303 February 6, 2017]
VP9, BERMUDA. Only a few more days to work Craig, VE3OP, as VE3OP/VP9 from Bermuda (NA-005). He will be active until February 15th. Activity will be on 160-6 meters using CW, SSB, PSK and JT65. QSL via his home callsign, direct or LoTW.
-[OPDX # 1304 February 13, 2017]

WP3, PUERTO RICO. Don, K4ZA, will be active as WP3R (from Angel station in Arecibo) during the ARRL International DX CW Contest (February 18-19th). QSL via W3HNK.
-[OPDX # 1304 February 13, 2017]

WP3, PUERTO RICO (On again!!). Operators Al/WP3C and Hector/NP4R will be active as WP3C during the ARRL International DX CW Contest (February 18-19th) as a Multi-Single entry. QSL via W3HNK. Visit the WP3C station web page at: http://wp3c73.wixsite.com/wp3c
-[OPDX # 1304 February 13, 2017]

ZF, CAYMAN ISLANDS. Dan, N6MJ, will once again be active as ZF2MJ from ZF1A QTH on Grand Cayman Islands (NA-016) during the ARRL International DX CW Contest (February 18-19th) as a Single-Op/All-Band/High-Power entry. Look for activity outside of the contest on 160-10 meters including 30/17/12 meters. QSL via N6MJ.
-[OPDX # 1304 February 13, 2017]

ZL, NEW ZEALAND. Operators Mark/ZL3AB, Geoff/ZL3GA and Phil/ZL3PAH will use the "Quake Contesters" callsign ZL3X during the ARRL International CW Contest (February 18-19th) as a Multi-2 entry. QSL via LoTW or direct to ZL3PAH.
-[OPDX # 1301 January 23, 2017]
---
Older Items
4S, SRI LANKA. Peter, DCØKK, is once again active as 4S7KKG from Moragalla, Sri Lanka (AS-003, WLOTA 0762). He has been active since November 1st, and will be there until April 1st. Activity will be mainly on CW and the Digital modes with operation on 20-10 meters. QSL via DCØKK, by the Bureau (preferred) or direct (see QRZ.com). LoTW on request. All QSLs for all QSOs will be sent via the QSL Bureau.
-[OPDX # 1299 January 9, 2017]
8Q, MALDIVES. Bob, GM4DLG, is now active as 8Q7RB from Maldive Islands (AS-013). The length of his stay is unknown at this time. Activity so far has beeen on 40/20 meters SSB. QSL via his home callsign.
-[OPDX # 1300 January 16, 2017]
9X, RWANDA (Update). Harald, DF2WO, will be active as 9X2AW (not 9XB954 as previously announced in OPDX.1293) from Kigali between February 3rd and March 11th. Activity will be on various HF bands using mainly Digital modes (PSK31, JT65 and RTTY) and CW. QSL via M0OXO's OQRS. Look for more details to be forthcoming.
-[OPDX # 1300 January 16, 2017]
H4Ø, TEMOTU PROVINCE. Darren, VK4FEDX, is now active as H4ØDA from Nendo Island (OC-100) in the Temotu Province. The length of his stay is currently unknown. Activity will be holiday style on 80/40/15/10 meters. QSL via VK4FEDX direct.
-[OPDX # 1299 January 9, 2017]
KC4, ANTARCTICA. Mike, RW1AI, a member of the Russian Speaking Radio Club (N2TA), is now active as KC4/N2TA from the Novolazarevskaya Antarctic Station until the end of February. Activity will be on 80-20 meters using CW and JT65. QSL only to: Russian Speaking Radio Club, P.O. Box 715, Brooklyn, NY 11230 USA.
-[OPDX # 1299 January 9, 2017]
OAØ, SOUTH SHETLAND ISLANDS (Update). Members of the Peruano Radio Club of Peru will be active OAØMP the Machu Picchu Antarctic Base on King George Island, South Shetland Islands (AN-010), between January 9th and March 31st. Activity will be mainly on 40/20 meters using SSB. QSL via OA4O.
-[OPDX # 1299 January 9, 2017]
P4, ARUBA. Operators Dan/K1TO, Ron/KK9K, Scott/NE9U and Mike/W9RE will be active as P4/homecall from Aruba between February 9-23rd. The group plans to be active during the ARRL International DX CW Contest (February 18-19th) as a Mult-2 entry using a special P4 callsign (pending).
-[OPDX # 1300 January 16, 2017]
V3, BELIZE. Paul, VE3AXT, is once again active as V31AX in the northern part of the country, Consejo Shores, Corozal, until March 7th. His rig is an IC-7000 with 100 watts into a G5RV dipole. QSL via MØURX and OQRS. Bureau QSLs are via OQRS ONLY at http://m0urx.com/oqrs. Please do not send YOUR QSL card via the Bureau. For more info and pictures, see his V31AX QRZ.com Web page.
-[OPDX # 1300 January 16, 2017]
YXØV AVES ISLAND. Pilot Station Steve, W4DTA, announced this past week that the YXØV DXpedition to Aves Island has not been cancelled, but put on hold by the Venezuelan Navy. This is due to multiple issues outside of their control (Weather, Politics, Protests) the Navy has asked to delay their departure. They are expected to meet with the Navy personnel in charge of the logistics of the transportation to the island by the middle of next week at the latest, and they hope to have a clear schedule for departure. The team is ready to go, and have worked hard to put together all the equipment, antennas, computers, cables, etc.....
-[OPDX # 1283 September 19, 2016]